As part of my trip to Montréal and Québec City, courtesy of Montréal Tourism, Québec City Tourism, and VIA Rail Canada, I was provided two very comfortable and convenient hotels.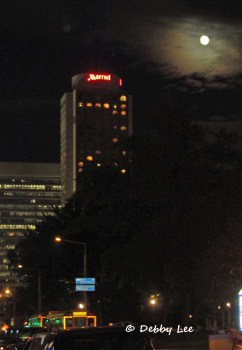 Located in the heart of downtown Montréal, even the name Marriott Château Champlain sounds extravagant. I was on the 22nd floor, with a nice view. Not only was I centrally situated within walking distance of everything…shopping, sights, museums, restaurants, parks, churches…but I was also very close to transportation. An elevator right in the lobby of the Marriott took me to the Metro trains, which I used to get to other areas of Montréal. And the VIA Rail Canada train station was an easy walk, two blocks away, when I took the train to Québec City.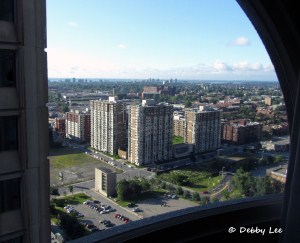 Historically, this hotel was built in 1967 in anticipation of the millions of visitors to the World's Fair in Montréal, 'Expo 67.' The hotel is the 9th tallest skyscraper in Montréal at 454 feet, with 40 floors, and is the tallest hotel in Montréal.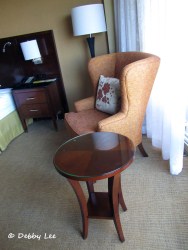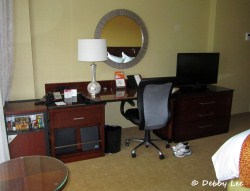 With 592 rooms and 19 suites, the Marriott Château Champlain includes bath robes, a hair dryer, an iron and ironing board, and wireless internet in your room. A buffet-style breakfast is served, and there is also a fitness center, indoor pool, hot tub, and steam rooms. Not only does the name of the hotel sound extravagant, it was extravagant to stay there.
******
"Ideally situated, Hȏtel Clarendon lies in the midst of the historical part of Québec, on City Hall Square near the modern shopping center. Situated in the heart of the city. Strictly Fire Proof. 143 Rooms with Bath. American and European Plan. Sample Rooms, Elevators and Electric Light throughout. Rates: $2.50 to $5.00 per day."
Postcards with old photographs describe this historical hotel that I stayed at in Old Québec. It was first in operation back in 1870, and is the oldest continually operating hotel in North America. (Of course, the rates have changed over the years.)
Hȏtel Clarendon is very classic and classy. A robe and chocolates was laid out on my bed when I arrived, and my large room also contained a dresser, couch, chair, coffee table, and desk. There were four windows in my room, with various views of Old Québec. Even the bathroom felt like I was stepping back in time, especially with the sink and tiles. I was also provided with a sweet basket of soaps and shampoos.
Very conveniently located, I walked everywhere from the hotel. Even the VIA Rail Canada train station is walking distance. Canada's oldest restaurant, also founded in 1870, the Charles Baillairgé, is located in the hotel, as is a lounge that plays live music on weekend evenings.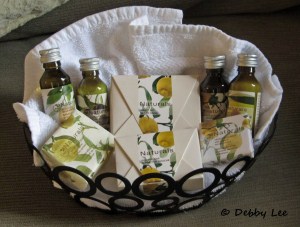 Hȏtel Clarendon even offers packages, including one night lodging, breakfast, dinner, and either a shopping gift certificate, a horse drawn carriage ride, a walking tour of Québec, or admission to a museum.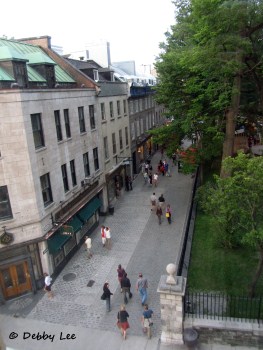 "Whether you are in town with family, as a couple, or on business, [or as a solo traveler], you will find a home away from home" at the very classy Hȏtel Clarendon.
Sweet (extravagant and classy) Travels!
This is my last blog about my trip to Montréal and Québec City from this past summer. I would like to say a grand thank you (merci boucoup) to all PR firms, tourism offices, VIA Rail Canada, tour guides, restaurants, hotels, limo services, and everyone involved in making this trip possible.
This trip was provided to me courtesy of Montréal Tourism, Québec City Tourism, and VIA Rail Canada, which brought me from Montréal to Québec City (links to all below).
Related Montréal and Québec City blogs:
Montréal and Québec City: Watching the world go by on on VIA Rail Canada.
Montréal: Endless, Nonstop, and Unlimited…In a Good Way (Part One)
Montréal: Endless, Nonstop, and Unlimited…In a Good Way (Part Two)
Québec City: Simply The Best
Québec City: Île d'Orléans
Québec City: Érico Choco-Musée
Montréal: Jardin Botanique, Insectarium, Biodȏme, & Parc Olympique
My Night in Old Québec
Old Québec: Windows and Doors
Montréal: Beaver Hall, Le Bistro Gourmand
General Travel Information:
VIA Rail Canada
Québec City and Area
Tourisme Québec
Bonjour Québec
Tourisme-Montréal
Photo Credit: Scan of Postcard from Hȏtel Clarendon