I fell in love with the island "of quiet things" a few years ago during a very brief visit. I have always wanted to go back. Small in size, about 21 miles long and 5 miles wide, this island is large in what it offers the visitor – about 600 historic buildings, around 75 businesses, and beautiful scenery surrounding. And in a few days, I will become the first person ever to do a walking tour of Île d'Orléans! What is more, this walking tour was my idea! I'm so excited!
Located in the Saint Lawrence River a few miles east of downtown Québec City, Canada, Île d'Orléans (Island of Orleans) is rich in its 300 year-old history, culture, and religious heritage, and in agri-tourism. Scattered with fruit and vegetable stands, and orchards to pick your own fruit, Île d'Orléans and provides Québec City with its fresh produce, and other products. It is known as the "Garden of Québec," as the produce and products are locally grown and made.
Île d'Orléans offers arts and crafts shops, boutiques and galleries, one of which contains paintings, jewelry, and sculptures created by nearly 60 Québec artists. Île d'Orléans offers wineries and gourmet restaurants, bakeries and boulangeries, cideries and sugar shacks, a cheese shop, a fish shop, and chocolateries. One can walk through a garden of nearly 10 acres, which includes 75,000 lavender plants, stroll on the shores of the island overlooking the river, and see farmland and fields of sunflowers. Historically the island supported the trades of fishing and boat building, thus there is a place to learn about wooden ship building. Churches, cemeteries, roadside crosses, and other religious monuments decorate the island. And there's more!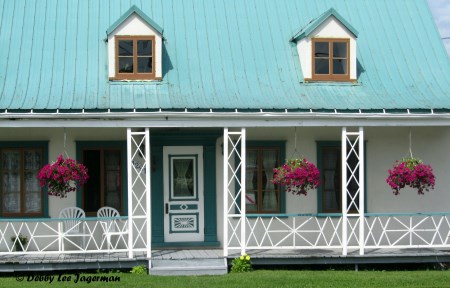 Here is the story of how my upcoming walking adventure came to be.
Two years ago I traveled to Montréal and Québec City, sponsored by Montréal Tourism, Québec City Tourism, and VIA Rail Canada. I was taken on guided tours of both cities, and also had time to explore on my own. Montréal is the city that has endless possibilities of activities to do. Québec City is the city that is "simply the best." Part of my Québec City tour was visiting Île d'Orléans. I was on the island for only approximately one hour, and visited only two of the 75 businesses (a "gallery boutique" and a "cider house"). But it was enough to intrigue me, and like I said, I fell in love with the island, and have always wanted to go back.
Then last year I walked a portion of the Camino de Santiago Pilgrimage in northern Spain. A several-week walk, spanning over 150 miles, where I did an average of 10 to 12 miles a day. It was an experience that will always be engrained in me, and because of it I developed another love…walking. Ever since I have been back from this trip, I enjoy walking as much as I can, whether short distances or miles at a time. Someday I would love to go back to Spain and walk the entire 500 miles of the Camino de Santiago.
Shortly after I returned from Spain, my brilliant idea popped into my head! Combine these two loves of mine…Île d'Orléans and walking. Do a walking tour of Île d'Orléans!! I was beside myself with excitement about this concept. I quickly proposed my idea to Québec City Tourism, and also to Tourisme Québec, to make sure that I could actually do such a unique trip, as currently people travel around the island only by car or by bicycle. Not only did they say my idea was possible, they also loved my idea, and thanks to them, they are kindly sponsoring the majority of my upcoming journey.
In a few days I will pack my walking shoes, my camera, bring an extra bag for anything I wish to purchase, and walk what will be a total of about 42 miles in 4 days. I will walk around the one main road which circles Île d'Orléans, and two smaller roads which cross the island through its middle, visiting the six parishes of the island, each with its own unique specialties. I will make it a goal to visit as many of the 75 business as I can, and see perhaps most of the 600 historic buildings as well. All while enjoying the beautiful scenery.
The pictures in this blog were taken during my previous one hour visit on Île d'Orléans. They are of the porches of homes showing the French-style architecture of the island. You may see the full homes, and read more about my impressions from my first visit of Île d'Orléans here. I am so very excited to be the first person ever to do a walking tour of Île d'Orléans!
Blogs about my experience will follow upon my return. A big thank you to Tourisme Québec (Québec Original) and Québec City Tourism (Québec Region) who are sponsoring the majority of my travels. For more information, please visit:
Tourisme.iledorleans.com
Québecregion.com
Quebecregion.com/en/quebec-city-and-area/ile-d-orleans
QuébecOriginal.com
Sweet Travels!