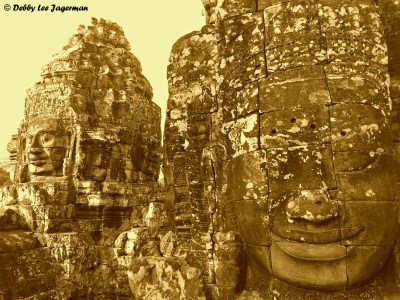 Walking amongst 216 larger-than-life carved stone smiling faces is truly an experience that everyone must have when in Cambodia. I visited twice, just because being next to all these smiling 13-foot tall faces, with all 432 eyes closed, was quite intriguing.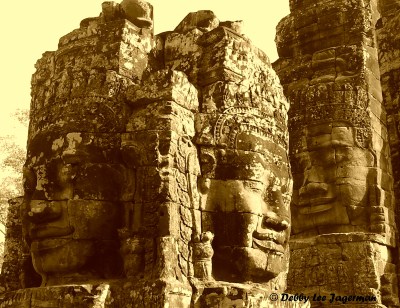 They say that the faces are in the image of Avalokiteshvara, a bodhisattva who embodies compassion, and is an enlightenment-being in the Mahayana Buddhist religion. I read that the smiles and closed eyes possibly represent "an all-knowing state of inner peace, and perhaps a state of Nirvana." I also read that, "according to Mahayana doctrine, Avalokiteshvara is the bodhisattva who has made a great vow to assist sentient beings in times of difficulty, and to postpone his own Buddhahood until he has assisted every sentient being in achieving Nirvana." No wonder I was intrigued with the smiling faces.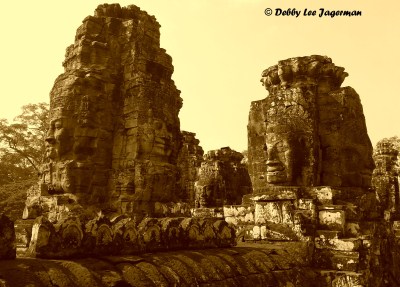 They also say that the faces might be a combination of this bodhisattva, and the King of the time, Jayavarman VII, who considered himself a "god-king," and identified himself with the Buddha. King Jayavarman VII created the faces as a dedication to Buddha.
This unique place is called Bayon. It is in the exact center of Angkor Thom, the official fortified state-temple of King Jayavarman VII (1181-1219), which was built in the late 12th or early 13th century, and supported a population of nearly one million people. Close to Angkor Wat, it is convenient to visit both places in the same day.
There are some clear differences between Angkor Wat and Angkor Thom, as Angkor Wat, built before Angkor Thom, is based on Hinduism, and Angkor Thom, and thus also Bayon, is based on Buddhism. Today, Cambodians are predominantly Buddhist, but there are still Hindu influences that are evident.
In general, four faces are carved on 54 gothic towers (the math adds up to 216), and each "face tower" is topped with a crowing lotus flower (also done at Angkor Wat). Each of the four faces looks in the four directions – north, south, east, and west. The four faces are also said to represent the four sublime states of Buddhism – charity, compassion, sympathy, and equanimity. The 54 towers themselves represent the 54 days of the lunar calendar, and the 54 provinces of the Khmer Empire of King Jayavarman VII.
Of all the many ancient structures that I visited during my time in Cambodia, I only went back to two of the places a second time – Angkor Wat and Bayon (just Bayon, not all of Angkor Thom). During my second visit to Bayon, I decided to set my camera on the "sepia" mode, giving a very interesting feel to the 216 smiling faces of Bodhisattva Avalokiteshvara and King Jayavarman VII.
Sweet Travels!
Some information from:
Kimsoryar Tour – Bayon Temple
Visit-Mekong – Bayon & Ta Prohm Temples
Wikipedia – Avalokiteshvara