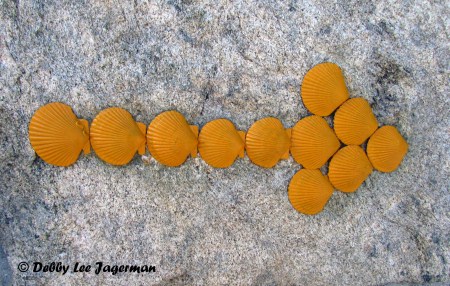 This story is about a man named Dietrich. He is from Germany, and I met him while we were both walking along the Camino de Santiago. A very friendly man. We had many very nice conversations together, as I ran into him several times over a period of a few days. We had different walking paces, so only once did we actually walk together. The other times we talked at restaurants, once at a church, and other times we just stopped to chat somewhere along the way. Dietrich is about 65 years old.
During our conversations, Dietrich shared with me about some of his life in Germany, his job over the years, other travels he has done, and that he has never been married nor has any children. He talked about his travels once to the United States. I talked about my travels once to Germany, and how my family used to live in Germany over 50 years ago. I do not speak any German, so it was helpful that he spoke English.
The first time I saw Dietrich was when he was walking in the opposite direction that one usually travels when walking the Camino de Santiago. I thought it was odd to see someone walking in what might be considered the "wrong" direction, but at the moment, I didn't question it too much. While we didn't actually speak on this occasion, we acknowledged each other with a smile, and a "Buen Camino."
It was the next day that I found out why Dietrich was walking in the opposite direction…
500 miles is the distance of the Camino Francés, the most popular pilgrimage route of the Camino de Santiago. This route starts in Saint Jean Pied-de-Port in France, near the Spanish border, and continues the 500 miles across northern Spain to Santiago de Compostela in northwestern Spain. It is common for people to walk the entire 500 miles all in one journey, but it is also common to break up the journey over the span of a few years. During my first conversation with Dietrich, I found out that he had been walking parts of the Camino Francés each year for the past three years, in three separate sections. However, unlike others who walk 500 miles, when Dietrich reaches Santiago de Compostela, he will have walked 1,000 miles.
Yes, 1,000 miles. Twice the distance of all other pilgrims.
You see, each of the three years that Dietrich has done a portion of the walk, he brings his car. Just in case. He has some medical problems, so having the comfort of his car with him helps just in case he needs to get some medical attention. Fortunately, he was doing very well in his third year when I met him.
Because he has his car, each day he would walk about 15 to 20 miles in one direction towards Santiago de Compostela, and then 15 to 20 miles back in the opposite direction to get his car. Yes, 30 to 40 miles a day! (I was averaging about 12 miles a day, in one direction.) Once he arrived back at his car, he would drive it to his turn-around place of that day, and then the next day, walk again 15 to 20 miles up, and 15 to 20 miles back. Wow! All I can say is Wow!! I was certainly impressed when he told me how he has been accomplishing his journey.
Unfortunately because of our different walking paces, after a few days of running into each other and having our good conversations, and our one walk together, I unfortunately did not run into him again. I thought I would, so up to that point, I had not gotten his contact information to keep in touch after the Camino.
Since we were only a few days from reaching Santiago de Compostela during our chance meetings, there was a big part of me that was really hoping I would actually get the opportunity to walk those last few miles with him, so that I could see his expressions, and feel his emotions as he reached the Cathedral after all these years, after all these hundreds upon hundreds upon hundreds of miles.
But alas, I truly do not know if Dietrich actually made it to Santiago de Compostela this year. But, with only a few days left, and his health seeming to be very good, I truly hope he did reach the end of his long journey. I would like to think he did make it to Santiago de Compostela. In fact, with his determination, strength, and perseverance, I am sure that he did.
Sixty-five years old. Three years. 1,000 miles. I am glad I met Dietrich. He is truly an inspiration.
Sweet (and inspirational) Travels!
Note that the photos in this blog are some of my favorites – yellow arrows made out of scallop shells, and a real scallop shell that I saw on a beach at Finisterre. (Also note that I did change Dietrich's name for this blog.)

Thoughts, Tips, & Translations for Today's Blog:
Contemplative Thought from the Camino: May we all be healthy, strong, and determined enough to walk well into our 60's…and beyond.
Packing Tip for the Pilgrimage: For walking 500 miles (or 1,000 as the case may be), a great pair of shoes is essential. Many people wear a light hiking boot. Others wear running shoes. Some even wear sturdy Teva-type sandals. I chose to wear trail running shoes. Choose whatever is comfortable, and be sure to test out your shoes before you walk the Camino.
Spanish (actually French) Translation of the Santiago: Saint Jean Pied-de-Port = Saint John at the Foot of the Mountain Pass.