Bhutan: Books, Books, and More Books
I'm leaving in just a few days for my three-and-a-half week journey into Bhutan. Six months of planning, researching, itinerary-making, organizing, blogging, tasting some Tibetan-style food, talking to family and friends about my trip, and even attending Buddhist Dharma talks and meditation classes, is all finally packed up and ready to go!
Reading was also a large part of my preparations. Both guide books, and memoirs written by people who have lived, traveled, or are living in Bhutan. The more I read about Bhutan over the past six months, the more I couldn't wait to go. With each page I turned of each book, I became more interested and more intrigued by the country, its people, and its culture. Each book provided valuable insights about Bhutan, and I have learned a lot about the country through these books – and I haven't even been there yet!
Here is a list of all the books I read, with a brief description of each book. I am also including some of my favorite quotes from the books, and I give recommendations on which book(s) to read whether you plan on traveling to Bhutan or not. If you read even just one of these books, you will be amazed by this country!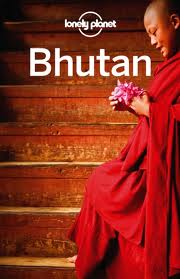 Lonely Planet: Bhutan…This is one of the two essential guide books to read if traveling to Bhutan. It is written by my personal favorite series of guide books, Lonely Planet. I happen to have two versions of this book, one from April 2007, and the more recent, March 2011. These books are broken down into easy-to-read sections for the traveler, with lots of information including chapters on the culture, history, religion, the environment, trekking, planning your trip, important general and specific travel information, and lots of detail on each region of the country.

"…Smiles of the children…laughter overheard in the family house…warm and open people…humor…you should not be surprised to be offered a seat and a cup of tea…the generous nature of the Bhutanese."


Bhutan: Himalayan Mountain Kingdom…This is another essential guide book if you are traveling to Bhutan. But this book also crosses the line into a book to read even if you aren't traveling there, as it also provides a wealth of interesting information about the country. Written by Françoise Pommaret, a French woman who lives in Bhutan, she describes not only information for the traveler, but updates this resource, rich with facts on the Bhutanese culture, religion, history, economy, festivals, dance, music, geography, flora and fauna, art and architecture, national parks, trekking, and more. Pommaret provides in-depth looks at a few other topics as well, such as national symbols, the monastic community, stages of life, medicine, archery, books, language, customs and etiquette, to name a few.

"Gross National Happiness…has 'Four Pillars' – good governance, sustainable development, environmental conservation and preservation of culture."


"Bhutanese art has three main characteristics: it is anonymous, it is religious and, as a result, it has no aesthetic function by itself. A Bhutanese does not view a painting or a sculpture as a work of art but as a religious work."


"The harshness of their life is equaled by their sense of humor and their hospitality."


Treasures of the Thunder Dragon: A Portrait of Bhutan…This was my favorite book, and if anyone wants to read just one book on Bhutan, whether traveling there or not, this is definitely the one to read! Written by a former queen, Ashi Dorji Wangmo Wangchuck, she tells of Bhutan in three parts: her own personal memoir; Bhutanese fundamental beliefs and practices; and her own travels on foot to visit the people of some of the most remote places in Bhutan in order to get a deeper understanding of her country. You certainly learn a lot about the country and the people from this one book, and it will make you want to travel to Bhutan. The former queen also describes a foundation she started, Târâyana Foundation, which initially helped children, elderly, and the disabled through scholarships, medical support, monthly stipends, or simply by supplying warm blankets. Now it appears that this Foundation does so much more than that! ("Târâ" means compassion.)

While this book is filled with many quotes, I particularly enjoyed reading about a Bhutanese fable entitled The Four Friends. It is story of how "an elephant, a monkey, a hare and a bird, perched acrobat-fashion one on top of the other, standing under a tall tree laden with fruit. The fable relates how the elephant, though strong and mighty, needs the agile monkey to help him reach the fruit on the tree. But, it continues, there would be no tree if the bird hadn't eaten a seed to begin with and then deposited it on the soil in its droppings; and the seed would not have grown into a tree had the hare not protected and nurtured its roots underground. The elephant, the monkey, the hare and the bird also symbolize, respectively, the four terrestrial habitats – the ground, the air, the underground and the sky. The fable underlines the virtue of cooperation, and the connections and interdependence between all creatures great and small, and all the elements, in nature's cycle." (I love this story!)


Beyond the Sky and the Earth: A Journey into Bhutan…Written by a Canadian woman who lived for three years in Bhutan, and taught young children in a remote village, and then taught college students, Jamie Zeppa'a book is another must-read! From her interactions with the young children, to the college students, to falling in love with a Bhutanese man, Jamie shares her personal stories of experiencing living in another culture with understanding and humor. Love, history, culture, Buddhism, landscape, and lifestyle are told honestly and mindfully.

The title of her book represents that when you say "thank you very much" in Dzongkha, the national language of Bhutan, you are really saying, "thank you beyond the sky and the earth." (Isn't that beautiful?!!)


"Everything is more meaningful here because there is less of everything. Every brown farm egg is precious. I make yogurt out of sour milk, and turn overripe fruit into jammy desserts. A plastic bag is a rare and immensely useful thing."


"The rains have turned Pema Gatshel [in Eastern Bhutan] a thousand shades of green: lime, olive, pea, apple, grass, pine, moss, malachite, emerald. The trees are full of singing insects, flowers, birds, hard green oranges, children."


Dreams of the Peaceful Dragon: A Journey Through Bhutan…Up until about 35 years ago, few foreigners visited Bhutan. Even when tourism was opened up, getting to the Eastern part of the country was quite a journey. Katie Hickman tells of her and her companion's tribulations and triumphs of being one of the first travelers to make the journey across the country, on foot, horseback, and other transportation. This book is a must-read if you want to experience not only Bhutan, but a fantastic adventure.

"We do not only travel to find the truth, but also to rediscover the mysteries that are in life." "The best kind of travel is the kind which allows people to make discoveries." "For me, this is what travelling is ultimately about: getting under the skin of things – to the heartbeat beneath."


"Like most Bhutanese women she wore her hair cropped short, and her face with its high cheekbones and dark, smiling eyes was strong and compassionate."


"[Thimphu] is the only capital city in the world that I can associate with gentleness, and with innocence."


"The philosophy preached by Siddartha Gotama, the Buddha, with its emphasis on gentleness, purity, and kindness to all living creatures remains the kernel of Bhutanese Buddhism."


Married to Bhutan: How One Woman Got Lost, Said "I Do," and Found Bliss…Usually love stories involve falling in love with another person, which is what Linda Leaming did. But she also fell in love with an entire country. This book is another highly recommended book about one woman's journey of living in Bhutan. I mean really living there, absorbing their culture and way of life. She shares her insightful wisdom about marrying a Bhutanese man, and thus marrying the country. I am certain that Ms. Leaming still lives there, and I would love to run into her somewhere and talk more about her experiences of living in Bhutan.

"…things that matter – family, culture, humor…"


"The way the Bhutanese firmly refuse to be controlled by the clock is the main thing I loved about the country when I first visited in 1994….They are masters of living in the moment."


"They have developed a sort of groupthink: they look out for one another….[they] are willing to give up some individual freedom to help the cause of everyone else."


"But here we live so much in the moment. It's a gift to know this: that life and the world are fleeting, like water in a river. Knowing that change is inevitable and life is ephemeral is being mindful. It makes each moment rich with possibilities."


"It's one of the few countries in the world that gives its people free health care and free education."


Beneath Blossom Rain: Discovering Bhutan on the Toughest Trek in the World…"Spanning twenty-four days and traveling 216 miles over eleven high-mountain passes – including seven over 16,000 feet – the Snowman Trek is not only the ultimate high-altitude traverse of the Himalayas but the toughest trek in the world."Originally I was going to read this book in a few days on the plane on my way to Bhutan, but instead I stared this book about two weeks ago, and wasn't able to put it down. I just finished it!
A detailed description of the Snowman Trek itself, Kevin Grange not only describes the beautiful scenery with photos and words, but he also shares candidly his personal thoughts and self-discoveries. He includes interesting information about Bhutan, and talks honestly of the difficulties, as well as the brilliance, of hiking at high altitudes. Friendships and bonds with those he trekked with, and meaningful encounters with those whom he met on the trek that live in Bhutan, are expressed. You won't be able to put this book down either, and it is another must read whether you are traveling to Bhutan or not, and whether you plan on doing the Snowman Trek or not.
I was going to include some quotes from the book about what blossom rain is, and what Kevin discovers it means, but I think one must read the entire book for oneself to truly understand. So I will just include one quote Kevin says about the Snowman Trek:

"…and now when anyone asked me about the trek, my face too would light up as if standing over a heap of jewels, and I could say, 'It is the most otherworldly place…'"


One other item that Kevin mentions in his book is an organization known as RENEW, which I had actually heard about several months ago as I was researching and planning my Bhutan trip. I love what the acronym stands for, and what the organization does. Respect, Educate, Nurture, and Empower Women! It is "dedicated to the empowerment of women and girls in Bhutan, especially the victims and survivors of domestic violence."
Note that there are so many more quotes that I could have included in this blog from all the books I read, but it would be best to read at least one book yourself. Also note that there are plenty of other books written about Bhutan that I have not read…YET!
The photo at the beginning of my blog was taken by my friend, Jerry Klein. In 1987 Jerry traveled to Bhutan. Four-and-a-half weeks of his six weeks in the country were spent on an extended trek from Jakar to Punakha, a trek that I don't believe is offered to tourists today. Some of Jerry's trip was however in the Lunana district, which is part of today's Snowman Trek. Jerry, a professional photographer, traveled with others such as a professional geologist, and was granted special permission to visit the Masan Khang base camp, about 2 km from the border with Tibet. The above photo is of the Tsendagon Peaks. To see more of Jerry's breath-taking photos, please visit JKleinArtPhotography.com.
Please see my Bhutan category for blogs that I have written thus far on Bhutan before I even traveled there. Of course, when I return, I am sure that I will have plenty of blogs to write about my experiences. I will also continue to write more about my travels to Montréal and Québec City.
Sweet (and book-filled) Travels!
6 comments