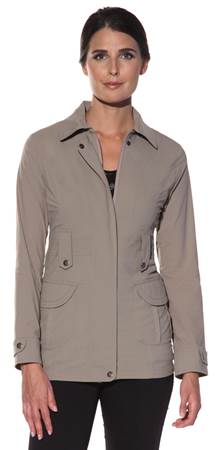 I have to admit that I hadn't heard of Anatomie Apparel until these folks contacted me about reviewing their clothes.
While Anatomie is best known for their line of pants, I was most interested in testing out the Diane Travel Jacket as I really like lightweight jackets–especially for cold plane rides–and I knew this would get a lot of use.
I've since discovered that Anatomie has a wide range of clothing options and all are really ideal for travelers.
How so, you ask?
Well, the first thing I noticed with the Diane Travel Jacket is that the emphasis is on comfort. It's made of a nylon and lycra blend that gives it it an excellent stretch. Even with the jacket zipped all the way up, I can easily twist and move around. In other words, it has lots of give.
Both owners of the company have a background in designing performance clothes for athletes, so it makes total sense that comfort would be such a high priority for them.
But Anatomie clothes go beyond being practical. They are also quite upscale in their styles. Think: Paris. Check out any item on their site, and you'll see that they possess a stylish sensibility.
Because the materials they use are so lightweight, they pack down small and will take up little space in your bag.
The Diane Travel Jacket has two front pockets with flaps, great for tucking away items while you're touring around a city.
It can be worn zipped up (pictured above) for a tailored shape, or open (pictured below) for a more casual look. What struck me as so unique about the Diane, however, is the long length of it. It comes down much longer than most other light jackets I have. And that's a bonus as it seems to provide a much sleeker style than a short, waist-length coat.
The Diane Travel Jacket is available in Black, Grey, Navy, Khaki and Purple.
About Anatomie
Anatomie is a designer fashion house that creates elegant, luxury travel wear using high-performance fabrics to ensure that the woman traveler wanders the world in style and comfort.
Wanna win your own?
During the month of August, you can enter to win your very own Diane Travel Jacket from Anatomie (choose from Black, Grey or Navy for this contest). One winner will be chosen on September 1, 2014.
You have TWO CHANCES TO WIN!
1) Sign up for the Wanderlust and Lipstick newsletter. This goes out just once a month and your information is never shared.
2) Sign up for the RSS email feed (see the "subscribe me" box in the upper right) to receive an email each time I post to this blog (usually no more than 3x per week).
Oh, and get some good karma by forwarding this to friends whom you think might like to enter to win a Diane Travel Jacket from Anatomie.
Value: $265
The Deets
This contest closes at 11:59 pm PST on August 31, 2014 and the lucky winner will be chosen on September 1, 2014. We can only ship to U.S. addresses (sorry!).
The winner will have three days to respond before another winner is chosen.
Travel Well,
Beth
2 comments