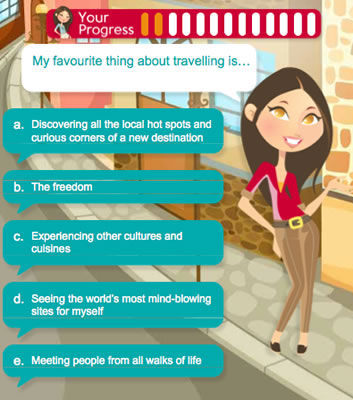 International Women's Day is March 8th. In honor of we adventuring wanderlusters, this month, the folks over at Intrepid Travel are giving you a chance to get 15% off of one of their tours just by taking their Adventure Girl Quiz.
It's super easy and really quite clever how this is all laid out. Just pop on over to the Intrepid Facebook page, answer their questions to determine what sort of traveler you are and they'll provide you with a list of tours that fit your style (giving you a nice discount, too). Here's a breakdown of their adventure gals…
The Culture Connoisseur – You like to expand your horizons and explore new places by getting to know the local culture. Recommended trips include Burma, Cuba, Iran and Guyana (wow!).
The Inspired Explorer – You never have enough time to see everything. You're on the go but also inspired by people watching at your destination. Recommended trips include China, Morocco and Sumatra.
The Fun Lover – You like the best of both worlds. You take in the culture, but you also like your late nights and to sleep in. Recommended trips include Road to Zanzibar, Classic Thailand and Barcelona to Rome.
The Adventure Addict – No settling down for this gal. Climb those mountains, surf the sea or find yourself trekking from hut to hut. Recommended trips include the Serengeti and Kilimanjaro, Hiking Yosemite and Cycling the Backroads of Sri Lanka.
Fly-by-the-Seat-of-Your-Pants – No research but so what. You're still going to have a blast. Recommended trips include American Gold Rush, Explore Eastern Europe and Mexico Unplugged (aaaaaah).
I took the test myself and discovered I'm all over the map and am a bit of each of the above. (Boy, and I thought I was the Culture Connoiseur all the way!)
Don't forget to claim your voucher after taking the test and leave a comment below to share kind of adventure gal YOU are!
Travel Well,
Beth