Wanderlust and Lipstick Newsletter – October 2008
October Greetings!This is the official Pick-Me-Up issue!
We Wanderlusters live in our own world, right? We're still traveling as proven by the number of emails I've received in the last month from YOU with questions about your destination. Whether you're headed to Las Vegas (Kristen) or Bhutan (Frauke) or India (Jennifer), we're not slowing down. Put thoughts of what's happening in "real life" on hold and just enjoy this newsletter, treat yourself to my recommended CD & book or watch a film that will transport you to another continent!
Oh, and why not order your copy of Wanderlust and Lipstick: For Women Traveling to India? Hot off the presses, you can now order it for yourself, a friend or your co-worker who's planning a journey to the subcontinent.
As for me, September was relatively quiet… I enjoyed our belated Seattle summer and got busy editing the next Wanderlust and Lipstick book, Traveling with Kids!
I'll be busy the remainder of the year promoting the India book, teaching workshops and signing books.
My next scheduled trip is to Bhutan in April. Come join me and the other fun gals already signed up!__________________________________________________
Wanderlust and Lipstick Tours
Dreaming of Bhutan, India or Africa? Join a tour, bond with other Wanderlusters and experience some of the most interesting places on earth.
In April '09, I'll be leading another small group on an amazing 12-day trip to BHUTAN. This women-only tour will include some very special opportunities to meet the beautiful Bhutanese people. We'll take a cooking class, visit a nunnery and donate books to school children. Here's your chance to travel with other WanderGals and experience one of the world's emerging travel destinations. See more details.
(Psst, this trip slid in under the lower government tariff so you'll save a few bucks by signing up for this one.)
JUST ANNOUNCED! – Award winning photographer, Brenda Tharp, will be leading a photography tour to Bhutan in the fall of '09. Capture images of the harvest season and cultural festivals while learning from a professional and experienced tour guide. See the full itinerary.
For a visual journey of Bhutan, visit my WanderGallery.
Also, details for a women-only trip to India are just beginning to come together for the fall of '09. A small group will join me as we visit some of India's most iconic locations including the Taj Mahal and the ghats of Varanasi as well as festivals such as Diwali and the Pushkar Camel Fair!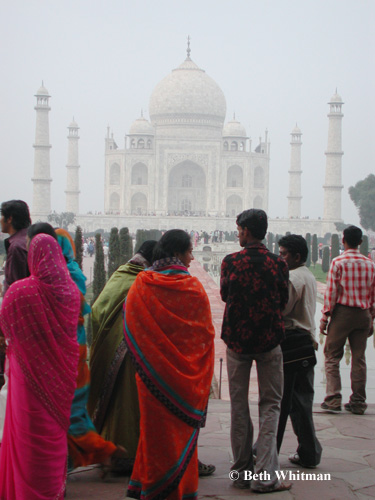 Finally, don't forget about the 15-day Migration and Hiking Safari in Tanzania for February, '09. Led by Leslie Nevison of Mama Tembo Tours, this adventure includes the opportunity to meet people from the Datoga and Maasai tribes as well as view wildlife, including elephants, monkeys, lions, hyenas, hippos, zebras and more. This is a once in a lifetime trip. Don't miss out!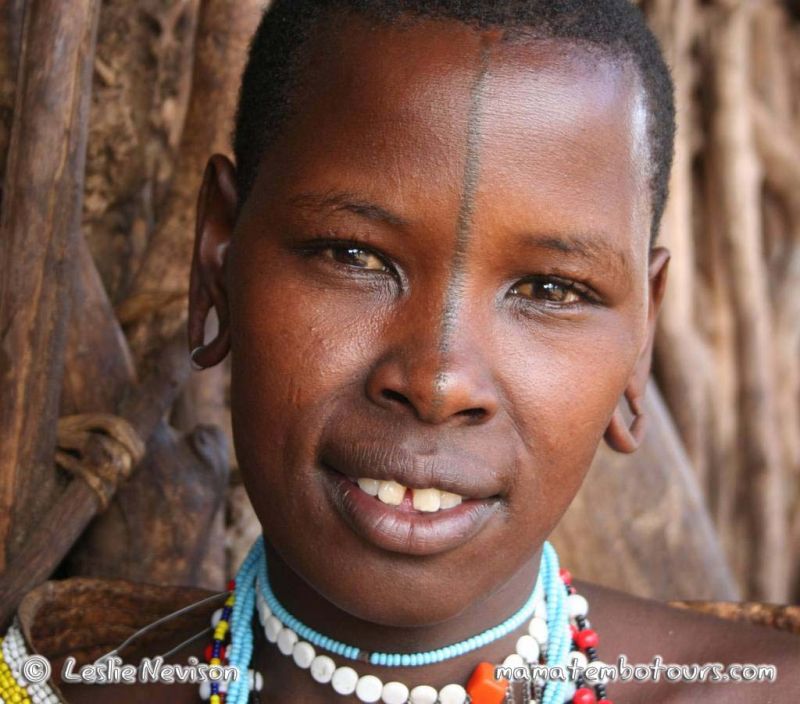 __________________________________________________
September Contest Winner!
Last month's contest winner for sharing the love by forwarding the Wanderlust and Lipstick newsletter to the most people was Pamela H. Congratulations, Pamela, you win a subscription to travelgirl Magazine! Now it's your turn, gals…
__________________________________________________
Share the Wanderlust Love - Win a Pair of SnUggs from Aussie Soles!
What says winter better than SnUggs from Aussie Soles?
Win your very own pair by Sharing the Wanderlust Love! Now!
Simply forward this email to all of your travel loving friends. The person who forwards this to the most people in October will win a pair of these comfy shoes in time for the cold weather. It's oh-so-easy. Your new shoes are just a few clicks away. (Please note that you must use the link here in order for me to track the forwards.)
Not only will sharing the love give you a chance to win, but you'll be doing your friends a favor by letting them in on the hot topics, ethnic recipes and Wanderlust event updates in each Wanderlust and Lipstick newsletter!
And, if you're not already convinced, take note that SnUggs combine Australian sheepskin uppers with a boot that molds to your foot using a comfy foam interior. Ooooh - can't wait til the cold weather hits now!
(While the contest is open to North America residents only, all forwards are appreciated.)
__________________________________________________
World Eats

Longing for a bit of Italy? You don't need to head out to the closest expensive Italian cucina to get your fix. Instead, test out Myscha's recipe for Simple, Affordable Cabonara. It only requires a few ingredients and it's super simple to create in your own kitchen.
For more recipes, peruse Myscha's blog, World Eats and Readers' Treats.
__________________________________________________
Traveling to India?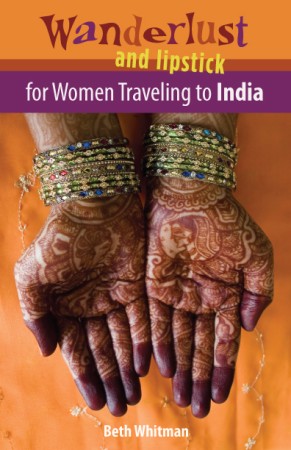 India is a magical destination that dances in the dreams of so many WanderGals. Whether you're preparing for your journey or have already been, you're sure to thoroughly enjoy For Women Traveling to India. It incorporates stories and tips from dozens of women who've made the journey to the subcontinent themselves and is the only comprehensive India guide for women.
At last, you WanderGals have your very own guide addressing the joys and difficulties of traversing from Kerala to Kolkata.
Order your copy today for just $14.95 (save $2) and be among the first to receive a signed copy of this unique guide.
__________________________________________________
Wander Recommendations
On the Bookshelf
How to Shit Around the World by Dr. Jane Wilson-Howarth

I couldn't resist! The subtitle of this book is The Art of Staying Clean and Healthy While Traveling. While the title is an eye-catcher, it's actually filled with very practical advice such as how to get your tour bus driver to pull over when you just can't wait as well as coping without TP. Come on, what traveler couldn't use a little bathroom humor...
In the iPod
Stubborn by ElodieO

Originally from Paris, ElodieO sings, composes and arranges most of the tunes on this electronica heavy CD. More suitable for a cocktail party (for 2) than a dance venue, I enjoyed the few upbeat songs (like Wake Up Without You) more than those that lazily drift as she sings in both French and English, but all were unique and refreshing. 

In the DVD Player
I'll Sing for You with Boubacar Traore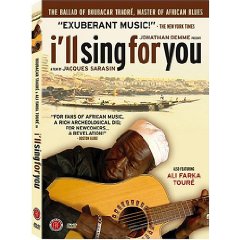 This documentary is about the musical life of Boubacar Traore (known as KarKar) of Mali. It's beautifully filmed and weaves the spectacular guitar playing of this Malian icon with his life story. Even if you don't "think" you like Malian music, you'll be able to appreciate the absolute purity of KarKar's talent.
WanderGear Review
Zadro Nano-UV Disinfection Light Scanner
I'm kinda digging all the travel gadgets that are being developed utilizing UV light to zap away germs. The latest thing to hit my carry-on bag is the Zadro Nano-UV Disinfection Light. This little item kills 99.9% of germs that you might encounter in a bed, on a toilet seat, on food utensils and more. Closed, it's not much larger than the palm of your hand and it takes just about 10 seconds over a potentially infected area to do its job. Read more...
__________________________________________________
Traveling with Kids
Leslie and Michelle are now in the process of editing Wanderlust and Lipstick: Traveling with Kids.
From the responses I've seen, I know you moms are excited about this one!
The book is going to be an awesome addition to the Wanderlust and Lipstick series and will definitely inspire you gals to travel now that you have kids!
__________________________________________________
Wanderlust in the News
Last week I was interviewed on KUOW's Sound Focus program with Jeannie Yandel. If you missed this segment, you can listen to it here.
I also had the pleasure of chatting with Frankie Boyer, who produces a syndicated lifestyle radio program out of Boston. Sorry, no online version of this one but you can check out her website for future guests.
Pop on over to Transitions Abroad for my latest article there on Health on the Road for Women.
__________________________________________________
WanderGear from CafePress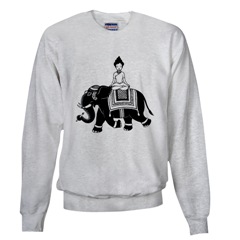 Hey, Wanderlusters! Ya gotta check out the new t-shirt design that is now available at Cafe Press. This "meditating chick on an elephant" is by Elizabeth Haidle and is a new design from this very talented illustrator. It can now be yours...
Wanderlusters across the country have been ordering products from the Wanderlust and Lipstick shop at Café Press! Be an insider and join others by treating yourself to a fun and funky Wanderlust shirt, messenger bag or coffee mug.
Go on, be a Wanderluster!
__________________________________________________
Got Wanderlust?
Do you or someone you know have "the bug"? Gotta get out and travel?
Don't wait another moment to pick up a signed copy of Wanderlust and Lipstick!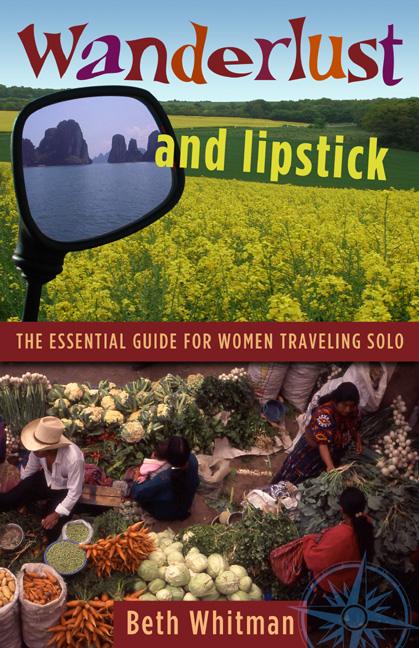 That's right. Order directly through my website and I'll personally inscribe a copy to encourage your (or your friend's) travel dreams.
Each signed copy of Wanderlust and Lipstick is just $15.95 (save two bucks!) with free shipping.
Read reviews for Wanderlust and Lipstick!
Get Inspired!
__________________________________________________
Connect with Beth

Email me - beth at WanderlustAndLipstick dot com
Friend me on Stumbleupon, Digg and Reddit
Find me on Facebook
Follow me on Twitter
Connect with me on LinkedIn
See my photos on Flickr
Comment on my blogs
Contact me through my website
Travel Well!
Beth