Wanderlust and Lipstick newsletter – November 2011
G'Day, Wanderluster!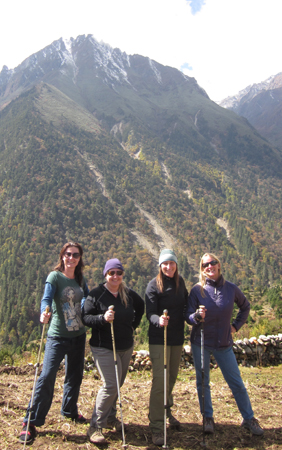 Life is good. After a few months mostly on the road, I'm now home from my most recent travels to Bhutan (trekking group pictured), Burma and Thailand. (BTW, shame on the media for having us all believe that the whole of Bangkok is flooded – it's not and my visit there was delightful.)
Hunkered down back in Seattle, I'm now working on details for a Fall 2012 Burma tour and have just finished details for the Papua New Guinea Mt. Hagen show in August and the Goroka show in September. (Note that the 2011 PNG tour sold out, so register early for your chance to visit in 2012!) In case you missed them, here are my PNG photos that might help you get excited about this fantastic destination
In other news, the WanderWomen Write Travel Writing Contest is now under way with nearly 100 entries so far! Grand Prize is a 7-day luxury stay for 2 to Secrets Huatulco Resort & Spa in Mexico (value $3,800)! Category winners will receive a Briggs & Riley 22″ Explore Upright bag (value $290).
__________________________________________________
WanderWomen Write Travel Writing Contest
Woohoo! The WanderWomen Write Travel Writing Contest is now accepting submissions. Now in its 4th year, the Grand Prize is a luxury stay for 2 to Secrets Huatulco Resort & Spa in Mexico. 4 category winners will receive a Briggs & Riley 22″ Explore Upright bag!
Enter early and please help us spread the word!
__________________________________________________
***Tours***
Bhutan, India, Papua New Guinea, Vietnam & Cambodia!
Read Testimonials from previous participants. See tour videos and Beth's NEW photo galleries of Bhutan, India, Vietnam & Cambodia and Papua New Guinea.
SOUTH INDIA TOUR INCLUDING PASSPORTS VILLAGE!
(women-only) January 25 – February 11, 2012

LAST CALL! This 18-day women-only tour focuses on South India's highlights including spectacular temples, tea and spice plantations, pristine beaches, the waterways of Kerala AND a trip to the Passports with Purpose Village! Take a yoga class, overnight on a houseboat, learn the secrets of South Indian cuisine in a cooking demonstration and experience the music, culture and food for which South India is famous. See the full itinerary.
VIETNAM AND CAMBODIA TOUR (women-only) March 8 – 24, 2012 FILLING FAST!
Back by popular demand is the Vietnam and Cambodia cultural tour with a few new stops! The 2012 tour includes a visit to Phnom Penh, a ride down the Mekong River from Cambodia to Vietnam, a visit to the Sapa region of North Vietnam AND an overnight on a houseboat in Ha Long Bay. You're gonna love this tour! See the full itinerary.
BHUTAN BUDDHISM TOUR (women-only) March 27 – April 7, 2012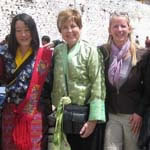 Whether you're a practicing Buddhist or you simple want to know more about how the Bhutanese practice, this tour will be a wonderful way to tap into the very spiritual and mystical side of the Kingdom. Meditate with a monk, take a yoga class and hear a lecture given by a Buddhist scholar. You can't help but feel the power of Buddhism in this Himalayan country and this tour will help you understand the basis for their beliefs! See the full itinerary.
PAPUA NEW GUINEA MT. HAGEN SHOW CULTURAL TOUR (co-ed) August 4 – 17, 2012 JUST ANNOUNCED! Back by popular demand, this incredibly unique journey to Papua New Guinea features the Mt. Hagen singsing, a tribal celebration like none other. The tour also includes a journey through the waterways of the fantastic Sepik River AND a trip to the Tari region, home to the famed Huli Wigman! See the full itinerary.
PAPUA NEW GUINEA GOROKA SHOW CULTURAL TOUR (co-ed) September 9 – 21, 2012 JUST ANNOUNCED! The Goroka Show Cultural Tour features 2 days at this famed singsing in the Highlands that attracts nearly 75 tribes from around the country. In addition to this magical festival, you'll have a chance to float along the Sepik River in the north and enjoy the natural beauty and birdlife of the mountains in the Mt. Hagen region. See the full itinerary.
NOTE: The 2011 Papua New Guinea tour sold out – don't delay in sending a deposit to secure your spot!
__________________________________________________
Wander Recommendations
(Purchase directly through this Newsletter and you help support Wanderlust and Lipstick!)
On the Bookshelf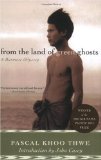 From the Land of the Green Ghosts by Pascal Khoo Thwe
It's been a long time since I read this book but I remember it vividly, including the torture and brutality of the Burmese government AND the hope and aspirations of young people. Having just visited the country, present-day Burma is quite different than even a couple of years ago. The people are excited about the newly-elected government, they are thrilled by the release of Aung San Suu Kyi and they want tourists to visit. Though today's Burma might be quite different than that described in this 2003 book, it's helpful to know the history of the people and this is an excellent memoir, written by a student forced to become a guerilla in the jungles. Available on Amazon

In the iPod

Lungs by Florence + the Machine
She claims to write best when she's drunk or hungover and apparently it works since Florence manages to tap into some powerful voice from a deep space within. Though she reminds me a lot of Annie Lennox, she's definitely her own woman. Favorite tracks for me are Dog Days are Over (you've likely heard it?) and Between Two Lungs. Available on Amazon
In the DVD Player
Midnight in Paris with Owen Wilson
Though a bit hokey, I defy you to watch this movie and NOT want to get yourself to the City of Lights immediately. Owen Wilson stars as a screenwriter visiting Paris with his uptight fiance. As he wanders the streets alone, he finds himself pulled into a world inhabited by Gertrude Stein, Salvadore Dali, Pablo Picasso and other talents whom are long gone. It's a fascinating look into what-ifs and in an interesting way, gives us all permission to go back in time to mingle with our own heroes. Available on Amazon
WanderGear Review

Timex Health Tracker Watch
Though I rarely wear a watch at home – instead relying on my iPhone – when I travel I find one to be very helpful. The Timex Healthtracker provides a way for me to count my steps, time my workout sessions and add a second time to keep up on the hour at home and at my destination. Read more…
__________________________________________________
New WanderBlogger!
Nicole at WanderChic
Nicole Sheets headed east, as in Eastern Europe, for two years with the Peace Corps in the Republic of Moldova in 2002. She then moved west to Salt Lake City and finally a bit further west to Spokane, Washington where she now resides. Interestingly enough, she lives within walking distance of a Nordstrom and a waterfall!
Nicole's work has appeared (or will soon) in Image, DIAGRAM, Western Humanities Review, Tampa Review, Geez Magazine, and other venues, as well as in the anthologies Permanent Vacation and Jesus Girls.
Welcome Nicole as she blogs about style and travel at WanderChic!
__________________________________________________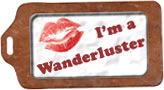 Profess Your Wanderlust-ness!
Got a blog or a website? Profess your Wanderlust Love by downloading a Wanderlust and Lipstick badge, placing it on your site and linking back to WaL! Let your readers know you're proud to be part of a growing community of Wanderlusters!
__________________________________________________
Got Wanderlust?
Need something to inspire your travel dreams?
The 2nd edition of Wanderlust and Lipstick: The Essential Guide for Women Traveling Solo is the definitive resource for all women travelers. Packed with anecdotes, expert advice and tips from more than 45 women travelers, it's sure to have you packing your bags before you have time to check your bank account. Don't wait another moment to pick up a signed copy of every WanderGal's favorite book.
Wanderlust and Lipstick: Traveling with Kids is the practical guide for traveling with children. Learn how to turn possible roadblocks into opportunities for stretching your family's travel wings.
Written by Michelle Duffy (WanderMom) and Leslie Forsberg, highlights include tips on saving money, packing, booking your flights, product recommendations from strollers to baby slings and much more. Buy now!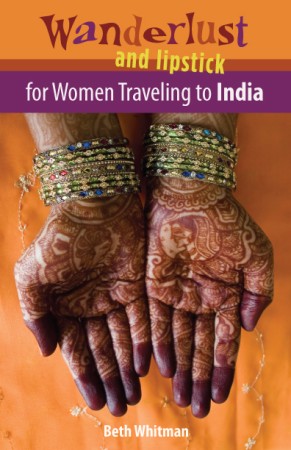 India is a magical destination that awaits you. Discover the joys and challenges of the subcontinent in Wanderlust and Lipstick: For Women Traveling to India and start planning the journey you've been dreaming about. In addition to Beth's own advice and guidance, this book incorporates stories and tips from dozens of women who've made the journey to the country themselves. Buy Now!
Don't even THINK about going to India without it. Seriously!
All books are guaranteed to INSPIRE!
__________________________________________________
Upcoming Wanderlust and Lipstick Events
November 4, 2011                                  January 2012
Collaborative Blogging                              World Affairs Council
Blog World Expo – Los Angeles                 Seattle
March 2 – 4, 2012                                     April 2012
NY Times Travel Show                               Travel Bloggers Unite
New York City                                             Umbria, Italy
__________________________________________________
Wanderlust in the News
In case you missed these mentions, interviews and reviews:
__________________________________________________
Connect with Beth
Let's stay connected!
Subscribe to my RSS feed
Email me – beth at WanderlustAndLipstick dot com
Friend me on Stumbleupon
Find me on Facebook
Follow me on Twitter @Wanderluster
Connect with me on LinkedIn
See my photos on the WanderGallery
Comment on my blogs
Contact me through my website
Till next month…
Travel Well!
Beth