Wanderlust and Lipstick Newsletter – June, 2012
Hello, Wanderluster!
So much happening at Wanderlust Central – where to begin?  
First, I've been working with a very talented video producer who created this short intro to WanderTours. Have a look-see. I think you'll like it
More videos are in the works!
Recent travels for me? 2 months. 4 continents. 5 countries (Bhutan, Thailand, Germany, Zambia, Texas). LOTS of frequent flier miles!
Zambia and Germany were both new to me (yippee for adding 2 more to the list!). In Zambia, I attended the opening ceremony of a library funded by Passports with Purpose during our 2011 fundraiser. Expedia sent 3 of the PwP founders (including Debbie from DeliciousBaby and Michelle from WanderMom) to this emotional event. (Psst – Details for our 2012 fundraiser are coming later this month.)
I'm now home but departing next week for TBEX in Colorado (where I'll be speaking) and then flying onward to Santa Fe for our culinary extravaganza.
Hard to keep up with me – eh? (I feel the same way!)
This month's WanderTours Deal: Register for either the Fall 2012 Bhutan tour or the Spring 2013 Bhutan tour by July 15 and receive a free copy of Matthieu Ricard's book Bhutan: The Land of Serenity ($65 value)!
__________________________________________________
***WanderTours***
See our new WanderTours Video!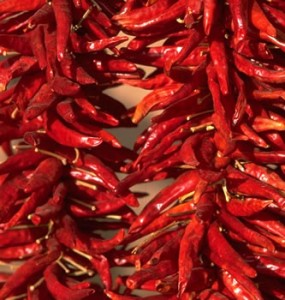 SANTA FE CULINARY TOUR (women-only)
June 20 – 24, 2012 TIMING'S TIGHT, BUT MAYBE WE CAN SQUEEZE YOU IN…
We've expanded this mini-tour by one day and added more culinary-focused experiences including a wine-tasting, a 4-stop chocolate trail and a farm visit. Scheduled for the summer for those who can't break away other times of the year. See the full itinerary.

PAPUA NEW GUINEA MT. HAGEN SHOW CULTURAL TOUR (co-ed)
August 4 – 17, 2012 NEARLY FULL! SEND DEPOSIT TODAY!
This incredibly unique journey to Papua New Guinea features the Mt. Hagen singsing, a tribal celebration like none other. The tour also includes a journey through the waterways of the fantastic Sepik River AND a trip to the Tari region, home to the famed Huli Wigman! Truly a once in a lifetime experience. See the full itinerary.
PAPUA NEW GUINEA GOROKA SHOW CULTURAL TOUR (co-ed) September 9 – 21, 2012 STARTING TO FILL!
The Goroka Show Cultural Tour features 2 days at this famed singsing in the Highlands that attracts nearly 75 tribes from around the country. In addition to this magical festival, you'll have a chance to float along the Sepik River in the north and enjoy the natural beauty and birdlife of the mountains in the Mt. Hagen region. See the full itinerary.
ROGUE RIVER RAFTING TRIP (women only)
September 9 – 12, 2012 ALL SKILL LEVELS WELCOME
Whether you are a beginner or an experienced rafter, the generally moderate whitewater of the
beautiful Rogue River in Oregon is ideal and might just be the perfect rafting trip. Rapids such as Blossom Bar and Rainie Falls are sure to inspire a generous dose of adrenaline. Expect sightings of abundant wildlife on the way and be serenaded by boisterous crickets and the rush of the passing river while you camp along the sandy beaches at night. See the full itinerary.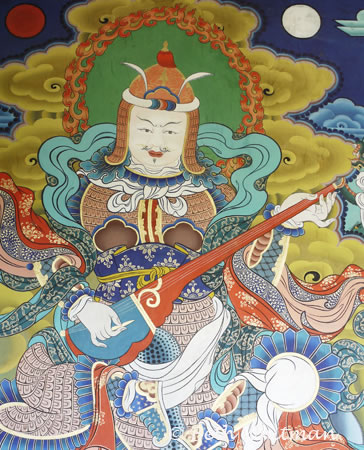 BHUTAN CULTURE AND FESTIVAL TOUR (women-only)
October25 – November 5, 2012 BOOK BY JULY 15, RECEIVE A COPY OF MATTHIEU RICARD'S BOOK BHUTAN: THE LAND OF SERENITY ($65 VALUE)
Experience the best of Bhutan's cultural highlights with light hiking in the pristine Himalayas, a cooking class and a hike to iconic Tiger's Nest in this 12-day women only tour. The trip is highlighted by a visit during the Jambay Lhakhang tsechu (festival) in Bumthang where a midnight dance takes place in the courtyard of an ancient monastery. See the full itinerary.
MYANMAR (BURMA) CULTURE AND PAGODA TOUR (women-only)
October 29 – November 9, 2012 3 SPOTS LEFT!
Visit Burma just as the country is opening up to the outside world and slowly but surely changing its reputation. This 12-day adventure includes Burma's highlights – the pagodas of Bagan, the magic and artistry of Mandalay and the peaceful and tribal-filled region of Inle Lake. This tour is close to selling out – don't miss your chance to experience Burma with a group of Wanderlusters. See the full itinerary.
NORTH INDIA CULTURAL TOUR (women-only)

November 4 – 17, 2012 REGISTER NOW TO SAVE ON FLIGHTS AND BE CONNECTED WITH A SHARE
Join us on this unique tour of Northern India – a destination we know well. Visit the Taj Mahal, be immersed in a Bollywood-like cultural extravaganza in Delhi, get to know the cuisine through an intimate cooking demonstration and enjoy spectacular Diwali festivities with a local family. This tour covers the best of the North including Delhi, Agra, Chambal and Rajasthan (with a Varanasi add-on). See the full itinerary.
SOUTH INDIA CULTURE AND TEMPLE TOUR (women-only)
January 27 – February 10, 2013
Journey through South India's spectacular temples, tea and spice plantations, pristine beaches and the waterways of Kerala. Take a yoga class, overnight on a houseboat, learn the secrets of South Indian cuisine in a cooking demonstration and experience the music, culture, and food for which South India is famous. See the full itinerary.
BHUTAN CULTURAL TOUR (women-only)
March 17 – 28, 2013 BOOK BY JULY 15, RECEIVE A COPY OF MATTHIEU RICARD'S BOOK BHUTAN: THE LAND OF SERENITY ($65 VALUE)
Discover the unique cultural aspects of this Buddhist Kingdom. Visit impressive dzongs (temples), learn about their philosophy of Gross National Happiness and meander through ancient villages. Finish the trip with a hike to Tiger's Nest! The tour coincides with the Paro Festival which features the unfurling of the country's largest thongdrel (banner). It is a spiritual event not to be missed! See the full itinerary.
__________________________________________________
Like Us on Facebook!
__________________________________________________
**May Contest Winner**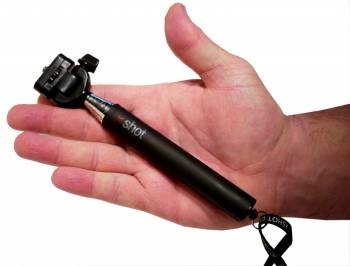 Congratulations to Elisa C. who is a new newsletter subscriber and was randomly chosen to win a Pocket XShot Camera Extender and an XShot iPhone 4 Tripod Case valued at $55 for the set!
__________________________________________________
Wander Recommendations
On the Bookshelf

Travelers' Tales India
One of the best ways to get to know a country, whether it's prior to or after a trip, is to read accounts from other people. Travelers' Tales India is an excellent collection of essays written by both veteran and lesser-known travel writers. Contributors include William Dalrymple, Madhur Jaffrey and Salman Rushdie. I literally keep this book bedside and occasionally pick it

up when I need a dose of India.
In the iPod
A Retrospective
by Pink Martini
I have a soft spot for this 14-piece band as they are located in the Pacific Northwest and because, of late, they have been performing with one of my favorite NPR reporters, Ari Shapiro. A Retrospective is a compilation of the band's 15 years together and

highlights their lounge and jazz style.
In the DVD Player
The Game of Thrones: Season One
I know. WHAT am I doing recommending this? After devouring season one, I thought, how could I NOT. After all, it was only because of Jon's urging that I gave in and watched the first episode of this HBO series. But then I couldn't stop. I figured if I was a reluctant watcher, there must be many others out there – but this is too good to miss. This grand production is a medieval fantasy filmed in Belfast, Malta, Croatia, Iceland and Morocco. It features dramatic landscape and costumes, and follows a storyline based on power struggles between very different Kingdoms. You. Must. Watch.

 
WanderGear Review

Though meant for high mountain sun, I've discovered another use for the Bolle Diablo sunglasses. As the sun rises earlier these days, I have found these most helpful during my early morning runs. They sit gently on my face and have lightweight rubber grips on the nose, the arms (where it sits above my ears) and along the brow line. This means they won't bounce around or shift while running. Plus, I LOVE the rose tint. Read more…
__________________________________________________
WanderFood Find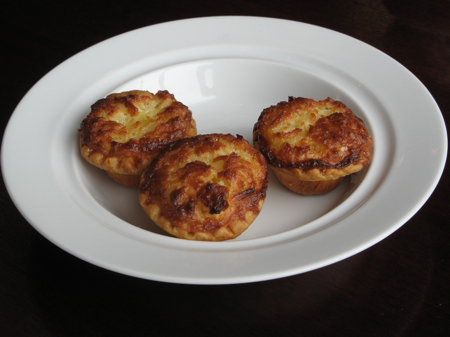 This month's recipe is for 
Hong Kong-style Coconut Tarts
. Carolyn sampled these sweet and chewy treats at the Hotel Grand Pacific in Victoria, B.C.
But, she discovered they are surprisingly easy to make and are an excellent dessert for any Asian meal. They also pair well with fresh fruit or a fruit sorbet.
Try the recipe shared by Executive Chef Rick Choy and other recipes from Carolyn on her WanderFood blog.
_________________________________________________
Upcoming Wanderlust and Lipstick Events
June 15-17, 2012
TBEX '12
Keystone, CO

See Beth's calendar for details.
_____________________________
Got Wanderlust?
See links above for $10 Mother's Day Special!
The 2nd edition of Wanderlust and Lipstick: The Essential Guide for Women Traveling Solo is the definitive resource for all women travelers. Packed with anecdotes, expert advice and tips from more than 45 women travelers,
Wanderlust and Lipstick: Traveling with Kids is the practical guide for traveling with children. Learn how to turn possible roadblocks into opportunities for stretching your family's travel wings.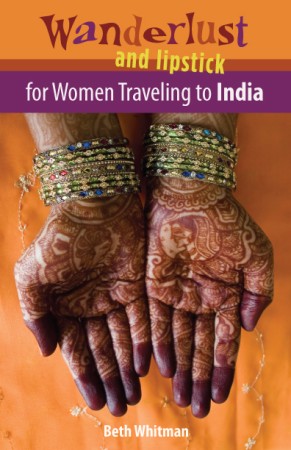 India is a magical destination that awaits you. Discover the joys and challenges of the subcontinent in Wanderlust and Lipstick: For Women Traveling to India and start planning the journey you've been dreaming about.
__________________________________________________
Wanderlust in the News
In case you missed these mentions, interviews and reviews:
* Austin CultureMap – Got Wanderlust?
__________________________________________________
Parting Words
From Rosalia de Castro… "I see my path, but I don't know where it leads. Not knowing where I'm going is what inspires me to travel it."
Until next month,
Travel Well!
Beth
Archives
May 2012
April 2012
March 2012
February 2012
January 2012
December 2011
November, 2011
October, 2011
September, 2011
August, 2011
July, 2011
June, 2011