Wanderlust and Lipstick Newsletter – December 2008
December, 2008
Happy Holidays!
Tis the season to think of others and to that end…

I'd like to first thank everyone participating in Passports with Purpose and invite you all to partake in this month-long event. What? You don't know about our fundraiser to benefit Heifer International?
YOU can change lives by helping feed families in developing communities by purchasing $10 raffle tickets to win some amazing prizes (hotel stays, clothing, video camera…) donated through a generous group of travel bloggers and their sponsors. The raffle runs through December 29th.
After you've ordered your raffle tickets, consider entering the Intrepid Machu PichuTravel contest. You can win a 15-day trip in South America valued at $2,000. Simply submit a (well-written) travel story and our panel of judges will choose a Grand Prize winner as well as 8 Best in Category winners who will receive either a travel bag from Timbuk2 or a SteriPEN water purifier.
Enter early. Enter often. Tell your friends!
A heartfelt Namaste to the folks in India dealing with the fallout of the attacks in Mumbai. Read about why you should still travel to India…
In this newsletter, see:

Tour info
Gift giving ideas
Where to find me
__________________________________________________
Wanderlust and Lipstick Tours
Dreaming of Bhutan or India? Join a tour, bond with other Wanderlusters and experience some of the most interesting places on earth.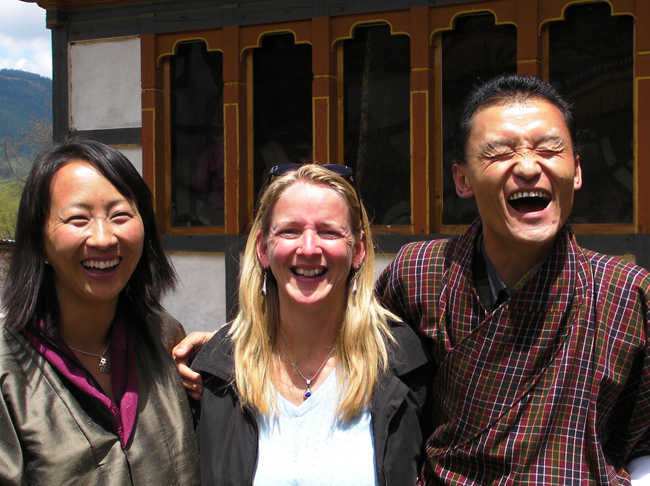 NEARLY SOLD OUT! In April '09, I'll be leading another small group on an amazing 12-dayChuki Beth Tshering trip to BHUTAN. This women-only tour will include some very special opportunities to meet the beautiful Bhutanese people. We'll take a cooking class, visit a nunnery and donate books to school children. Here's your chance to travel with other WanderGals and experience one of the world's emerging travel destinations. See more details. (Psst, this trip slid in before the  government raised its tariff so you can still get a deal on this WanderTour.)
Award winning photographer, Brenda Tharp, will be leading a photography tour to Bhutan in the fall of '09. Capture images of the harvest season and cultural festivals while learning from a professional photographer and experienced tour guide. See the full itinerary.
For a visual journey of Bhutan, visit my WanderGallery.
Just announced! Details for the women-only trip to India have been finalized for the fall of '09. A small group will join me as we visit some of India's most iconic locations including the Taj Mahal and the ghats of Varanasi as well as festivals such as Diwali and the Pushkar Camel Fair.
Not to be missed for any woman considering travel to this part of the world!
Stay tuned for details for a Buddhism-focused trip to Bhutan and Dharamsala, India in the fall of '09 (immediately following the women-only India trip). Join both for a discount! Details coming soon…
__________________________________________________
November Contest Winner!

Last month's contest winner for sharing the love by forwarding the Wanderlust and Lipstick newsletter to the most people was Peggy H. Congratulations, Peggy, you win a pair of SnUggs for the winter!
__________________________________________________
Share the Wanderlust Love – Win a Wanderlust 3-Pack!
Share the Wanderlust Love and win a 3-pack of Wanderlust and Lipstick guides. Yup. The Essential Guide for Women Traveling Solo, For Women Traveling to India and (the soon to be released)
Wanderlust LogoTraveling with Kids.
Simply forward this email to all of your travel loving friends and family members. The person who forwards it to the most people (you must use the forward link for me to track the number) wins!
Not only will sharing the love give you a chance to win, but you'll be doing your friends a favor by letting them in on the hot topics, ethnic recipes and Wanderlust event updates in each Wanderlust and Lipstick newsletter!__________________________________________________
World Eats
Oy vay, tis the season for these latkes featured in the book, The World is a Kitchen. Try these yummy fried potatoes and eat 'em for breakfast or as a side at dinner. And, if you want to check out some other ethnic recipes this holiday season, peruse Myscha's blog, World Eats and Readers' Treats.
__________________________________________________
On the Bookshelf
Beauty Secrets of India by Monisha Bharadwaj
Indian women are, undoubtedly, gorgeous. It's not only the brightly colored saris and scarves that they adorn themselves with, it's their Ayurvedic practice of health and beauty techniques. This book is choc-o-block full of tips on keeping your body glowing and healthy. Includes recipes for moisturizers, masks and scrubs. As the stresses of the holidays begin to creep up on us, take some time to pamper yourself with these homemade techniques. See more on Amazon…
In the iPod
Desert Crossroads by Etran Finatawa Etran Finatawa
Hailing from one of the poorest countries in the world, Niger, Etran Finatawa is one of the first group's to incorporate music from the Wodaabe tribe into their songs. Thought it includes chants from both the Wodaabe and Toureg tribes, this ain't all tribal. It intermingles rythms and melodies easy on the Western ear. A great starting point for anyone interested in exploring African music. See more on Amazon…
In the DVD Player
Slumdog MillionaireSlumdog Millionaire
I admit it. I never did read the book – it was a tough one for me to get into. So I watched the movie. And loved it. This is the story of two young boys in Kabul, a betrayal and the effect that this has on the rest of their lives. It's a heartbreaking story but is filmed in such a lovely way that it will stay with you for a long time. See the soundtrack on Amazon.
WanderGear Review
Travel Clothes from ISIS
I got turned on to Isis' clothes when I was at the Outdoor Retailer Show this summer. Over the last couple of months I've had the chance to test out a number of their items and have found them to be super-duper comfy. From their pants to their tops, they produce some great items for travel.
Read more…
__________________________________________
Got Wanderlust?
Consider these for yourself or your favorite WanderGal for the holidays!
India is a magical destination that dances in the dreams of so many women. Order For Women Traveling to India now. It incorporates stories and tips from dozens of women who've made the journey to the subcontinent themselves and is the only comprehensive India guide for women.
Traveling with KidsPre-order your very own signed copy of Wanderlust and Lipstick: Traveling with Kids, written by Leslie Forsberg and Michelle Duffy!
From the responses I've seen, I know you moms are excited about this one!
Books will ship early next year via priority mail.
Wanderlust Solo
For the definitive guide for all women travelers, don't wait another moment to pick up a copy of Wanderlust and Lipstick: The Essential Guide for Women Traveling Solo.
All books are signed and are guaranteed to INSPIRE!
Get Inspired!
______________________________________________
Wanderlust in the News
When you've got a sec, check out this interview I did with Chris over at Amateur Traveler last month. We had a lovely chat about traveling to India as a woman. And Transitions Abroad, where I'm the women's travel columnist, read my article about finding inner strength when you're traveling solo.
__________________________________________________
WanderGear from CafePress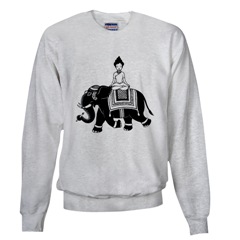 Hey, Wanderlusters! Ya gotta check out the new t-shirt design that is now available at Cafe Press. This "meditating chick on an elephant" is by Elizabeth Haidle and is a new design from this very talented illustrator. It can now be yours…
Wanderlusters across the country have been ordering products from the Wanderlust and Lipstick shop at Café Press! Be an insider and join others by treating yourself to a fun and funky Wanderlust shirt, messenger bag or coffee mug.
Go on, be a Wanderluster!
__________________________________________________
Connect with Beth

Email me – beth at WanderlustAndLipstick dot com
Friend me on Stumbleupon, Digg and Reddit
Find me on Facebook
Follow me on Twitter
Connect with me on LinkedIn
See my photos on Flickr
Comment on my blogs
Contact me through my website
Travel Well!
Beth