Wanderlust and Lipstick Newsletter – April 2009

(Sent the first Wednesday of the month, archived editions at bottom of page.)
Read the most recent Wanderlust and Lipstick newsletter below!
April, 2009
Namaste!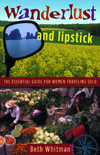 April is book blowout month! Order your copy of Wanderlust And Lipstick: The Essential Guide for Women Traveling Solo for only $10. I have 2 boxes left in my, ummm, warehouse, and need to move 'em to make way for Traveling with Kids, on its way from the printer! My supply is LIMITED so order now.
This is the time to pick up a copy for yourself or for that WanderGal wanna-be on the edge of travel but not quite there yet.
__________________________________________________
Wanderlust and Lipstick Tours
I'm packing for April's women-only tour to Bhutan! Why aren't you?
Not to worry, you can join one of the other fantastical Wanderlust and Lipstick tours scheduled for the fall of '09.
Join award winning photographer, Brenda Tharp, as she leads a 12-day, co-ed photography tour to Bhutan beginning September 23rd.Don't wait – this trip is filling fast!
The Himalayas are your backdrop as you capture images of the harvest season (wheat and chili peppers) and cultural festivals. Included are light treks and visits to monasteries, all while you have the opportunity to learn from a professional photographer and experienced tour guide. See the full itinerary.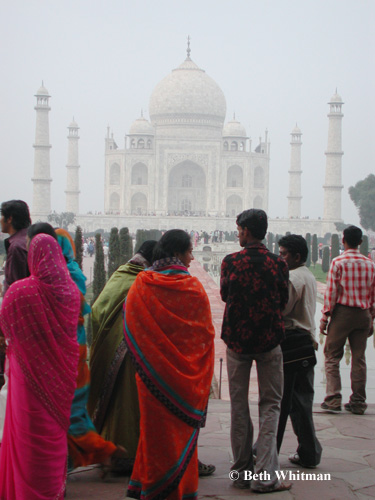 Ever want to experience India in all its frantic glory? Come with me on the women-only trip in October. We'll visit some of the country's most iconic locations including the Taj Mahal and the ghats of Varanasi as well as festivals such as Diwali and the Pushkar Camel Fair. This trip is a well-rounded mix of culture and sightseeing – sleep in the desert, shop for fabric and volunteer at a home for widows. See the full itinerary.
Watch this video on Varanasi to spark your India Wanderlust.
This co-ed Buddhism-focused trip to Bhutan and Dharamsala, India is in the fall of '09 (immediately following the women-only India trip). Take part in a meditation class, meet His Holiness Gyalse Tenzin Rabgye, hear lectures on Buddhism and visit the Haa Valley, until recently closed to tourists. See the full itinerary.
Join both the India and Bhutan trip for a discount!
For a visual journey of Bhutan, visit my WanderGallery.
__________________________________________________
Win a Pair of chicBuds! 4 Ways to Enter!
Win your own pair of ChicBuds (reviewed below), fun and sexy earbuds for your Mp3 player.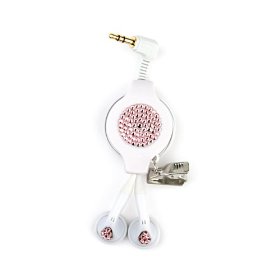 Yup, this is my shameless way to encourage people to become a dedicated Wanderluster. Here's who qualifies:
•    New subscribers to this very newsletter (send it to a friend if you're already a dedicated Wanderluster!)
•    New subscribers to my RSS feed (send me a note to let me know you're new)
•    Sign up for email alerts on my blog (fill in your email on the far right).
•    OR send me a disc of your favorite travel tunes.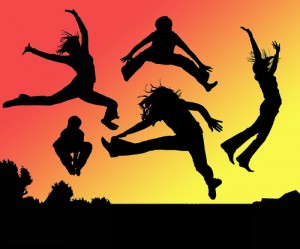 It's all an effort to spread the Wanderlust Love! No harm, ya know? It's all free, so why not?
Remember that I never share information, never spam (I'm vegetarian, after all) and do my best to ply you with lots of travel tips!
__________________________________________________
Dim Sum Diary – New WanderBlog

Elizabeth Kain lives in Hong Kong with her husband and daughter. She writes with wit and a keen insight about life as an expat on her new blog, Dim Sum Diary. Follow her as she travels throughout this complicated city and beyond.
Welcome, Elizabeth!
(Want to become a WanderBlogger, too? Email Beth for more information.)
__________________________________________________
March Contest Winner!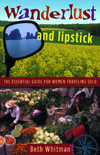 Last month's contest winner for sharing the love by forwarding the Wanderlust and Lipstick newsletter to the most people was Amanda S. from Seattle. Congratulations, you win a Wanderlust 3-pack – a copy of all 3 books from Wanderlust and Lipstick – Yippee!
__________________________________________________
World Eats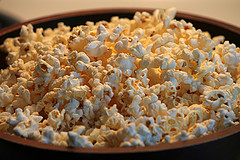 I dare you to find someone who is as big of a popcorn fanatic as I am. Seriously. Try.
I'm generally a standard olive oil with a touch of salt (or garlic powder) kinda gal, but Myscha has a great twist on the usual. Her Garlic Alfredo Popcorn recipe is perfect for curling up and watching a foreign flick. Try it with an Italian movie, of course!
For more ethnic eats, see Myscha's blog, World Eats and Readers' Treats.
__________________________________________________
Wander Recommendations
On the Bookshelf

In the Land of Invisible Women: A Female Doctor's Journey in the Saudi Kingdom by Qanta Ahmed
A British citizen, Dr. Ahmed is a Western-trained Muslim doctor who accepts a position to work in Saudi Arabia. During her two years there, she discovers just how deep both sexism and racism run in this culture. She does manage to find moments of beauty, too, however. While her story can be quite disturbing, this is an important read that will help us all understand life as a woman in Saudi Arabia. Available on Amazon
In the iPod
Long Way Down: Music from the TV Series

I'm not a Ewan McGregor-the-actor fan. BUT, he and Charley Boorman have earned my respect to have ridden their motorcycles to (and out of) some amazing places. This soundtrack is from the TV series that follows their journey from London to the tip of South Africa.
I was pleased to find A LOT of artists on this CD that were new to me (Spaccanapoli, Abdelli, Geoffrey Oryema) as well as a number that were already in my collection (Big Blue Ball, Thomas Mapfumo). Available on Amazon


In the DVD Player

Australia with Nicole Kidman and Hugh Jackman
I know. This movie got panned. But if you can get past the first 20 minutes of really bizarre directing and the totally fake backdrop in many of the scenes, you might be able to appreciate the very spiritual Aboriginal message that underlies this love story. As someone who has spent about 8 months Down Under, I was enthralled with this movie, despite the fact I rolled my eyes when Jon picked it up at the video store. So much for listening to the "critics". Available on Amazon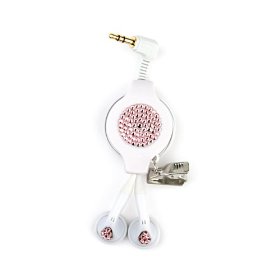 Last month I reviewed the Zune. This month, I offer you something to use with your MP3 player. These girly earbuds are studded with Swarovski crystals and come in a variety of colors. But the really cool feature is that they are retractable. No more messy cords to deal with as you tuck them into your daybag. Just pull on one end, and they retreat into their own beautifully studded case. See contest info above to find out how you can win your own pair this month.
Read full review…
__________________________________________
Got Wanderlust?
Need something to inspire your travel dreams?
Just in time for Mother's Day! Copies of Wanderlust and Lipstick: Traveling with Kids have arrived!Be among the first to receive a signed book!
Written by Leslie Forsberg and Michelle Duffy, highlights include tips on saving money, packing and booking your flights as well as product recommendations from strollers to baby slings and much more.
Pick up a copy for yourself or a wanna-be travel mom.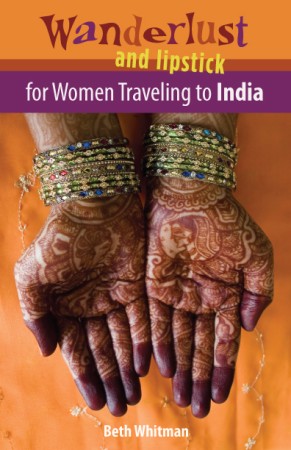 India is a magical destination that awaits you. Discover the joys and challenges of the subcontinent in For Women Traveling to India and start planning the journey you've always dreamed about. This book incorporates stories and tips from dozens of women who've made the journey to the country themselves.
Don't even THINK about going to India without it. Seriously!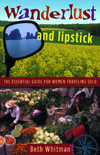 This is the definitive guide for all women travelers. Don't wait another moment to pick up a copy of Wanderlust and Lipstick: The Essential Guide for Women Traveling Solo.
Move-em-out-of-my-garage-sale. Only $10/each.
All books are signed and are guaranteed to INSPIRE!
______________________________________________
Wanderlust in the News
This month…
•    Nora, The Professional Hobo (from Down Under) got inspired by For Women Traveling to India and is ready for the adventure!
•    Rediff, the online news, entertainment and information portal for all-things-India interviewed me about homestays in India. YES, I did a homestay near Varanasi!
•    And don't miss my article in Transitions Abroad about the myth (and realities) of women traveling to Dangerous Destinations!
__________________________________________________
WanderGear from CafePress
In time for spring, consider a t-shirt with the "meditating woman on an elephant" design by Elizabeth Haidle. Available on Cafe Press along with many other designs…
Wanderlusters across the country have been ordering products from the Wanderlust and Lipstick shop at Café Press! Be an insider and join others by treating yourself to a fun and funky Wanderlust shirt, messenger bag or coffee mug.
Go on, be a Wanderluster!
__________________________________________________
Connect with Beth

Subscribe to my RSS feed
Email me – beth at WanderlustAndLipstick dot com
Friend me on Stumbleupon, Digg and Reddit
Find me on Facebook
Follow me on Twitter
Connect with me on LinkedIn
See my photos on Flickr
Comment on my blogs
Contact me through my website
Travel Well!
Beth
Archives
July, 2007

June, 2007

May, 2007

April, 2007

March, 2007

February, 2007

January, 2007

December, 2006

November, 2006

October, 2006

September, 2006