Light My Fire Travel Accessories ~ WanderGear Wednesday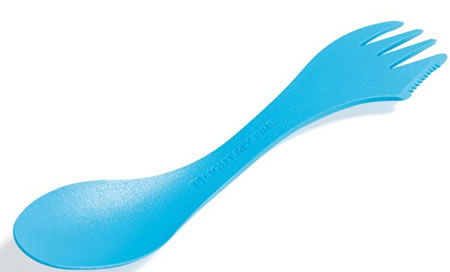 Some of my favorite travel items are the simplest of things.
Let's take the spork.
I received one of these in a welcome bag for a conference last year. Since then, it's come with me on most of my trips. It's excellent for stirring up and eating oatmeal on the plane and I've used it countless times when I've grabbed a yogurt from the grocery store and forgotton the spoon.
When I was at the Outdoor Retailer Show this summer, I was so excited to find the booth for Light My Fire, the company that makes these. They were displaying all sorts of sporks: large and small; titanium and lefty; with and without carrying cases. I wanted to just replace all of my silverware with the full range of colored sporks!
While in the booth oggling over the sporks, I ran into my friend who works with Light My Fire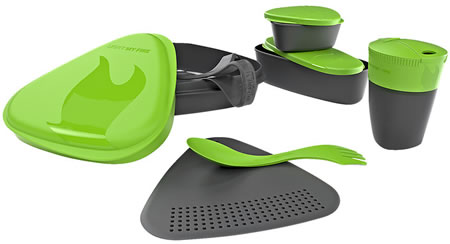 and she showed me all of the other cool items they produce. Like…
The Mealkit 2.0
Talk about a full meal deal. This self contained kit holds plenty of food for a meal+. All of the items pictured right actually fit INTO the triangular container. So you can travel with it empty and pack it up later or travel with it full and carry it home all packed back together.
Here's what I consider to be a perfect lunch: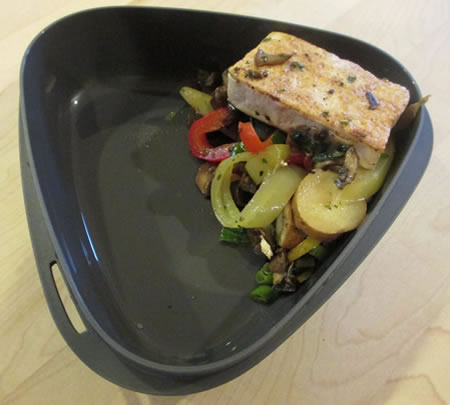 This was a meal of leftover veggies and tofu. The container was just the right size to hold this plus some soup…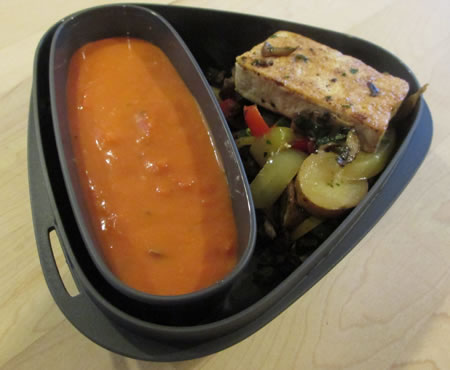 The oblong container that's inset comes with an airtight lid so you won't experience any spillage.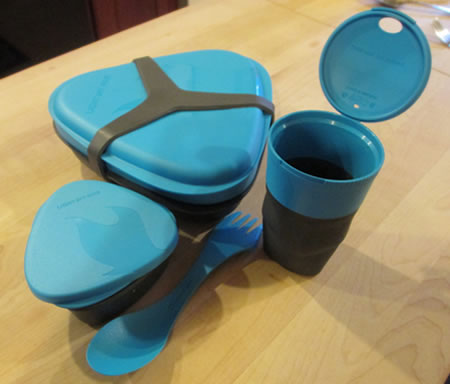 The Mealkit 2.0 comes with a strong harness/band that holds the lid on tight. Above is the full kit.
Here's all that's included:
A lid which doubles as a plate
The bottom portion which can be either a bowl or plate.
A small "snapbox" (the triangular small container)
An oval "snapbox" (which my soup is in)
A packup cup (it compresses into itself to save space)
A strainer/cutting board
Spork
Harness to hold it all together
This is definitely great for picnics but also for backpackers wanting to save some money. I can see packing up food at your hostel so you can have it for the day.
The Mealkit 2.0 is dishwasher safe and microwavable and it even floats so if you loose it on a rafting trip, you just might be able to retrieve it!
It's a great deal at about $20 on Amazon.
Travel Well,
Beth
1 comment