Venice ~ Photo of the Day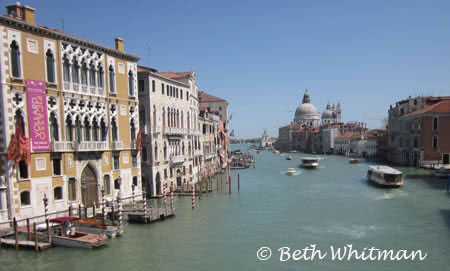 Despite having seen a gazillion photos, paintings and movies that feature the canals of Venice, I'm having a hard time wrapping my head around this city.
The audacity of its early residents to build the entire area on a lagoon! The city now consists of nearly 120 islands – all connected by footbridges and canals with public ferries and private taxis carrying people from place to place.
With an estimated 50,000 tourists a day, the narrow alleyways that wind through the city can be a bit overwhelming. (This is the shoulder season – I can't even imagine navigating during the summer months!) But the architecture, food and atmosphere are worth it. Listening to the gondoliers singing to their clients as they ply through the water is an unforgettable sound.
When you look at Venice on a map, it seems huge. But wandering around for one day makes you realize that it's a VERY walkable city. No cars. No motorbikes. Just footpaths (but lots of steps, for those wondering…).
I'm staying in a section of the city that's relatively close to San Marco, where St. Mark's church is located. In truth, I could be staying most anywhere and feel like I'm still close to everything. While I've couchsurfed before, this is the first time I've tested out staying in an apartment rental.
On this portion of my Italy adventure, I'm being hosted by Roomorama. These folks facilitate short-term apartment, home and room rentals. In my lovely place, I've got everything I need at my fingertips – kitchen, coffee, Wifi and a washing machine. Of course, a comfy bed, too. With all these amenities, why would I want/need a hotel room??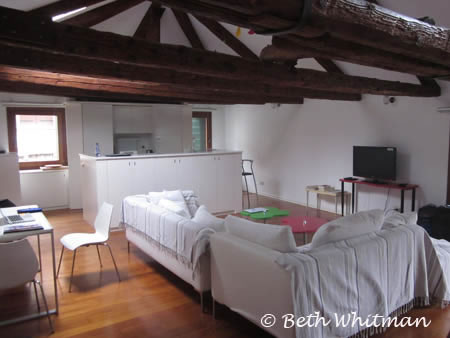 Bellisimo!
Travel Well,
Beth
Related links:
Assisi, Italy ~ Photo of the Day
Life's Short – Dessert in Italy

3 comments