Papua New Guinea Photos – Part III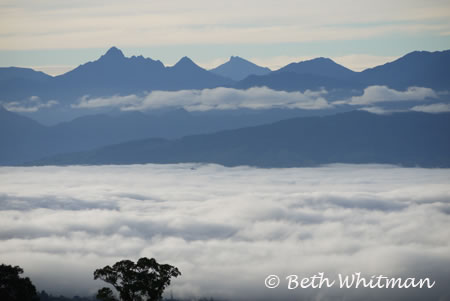 While Papua New Guinea is definitely heavy on the culture, there is plenty of beautiful landscape to enjoy. The above is mist hanging over the mountains of the Mt. Hagen region in the Highlands. We enjoyed this view most every day. Usually the skies opened up by mid-morning.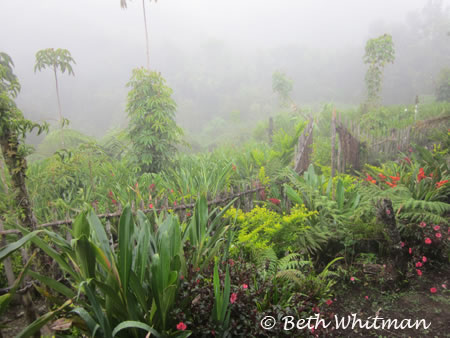 Outside my bungalow, the lush vegetation just peeked through the mist.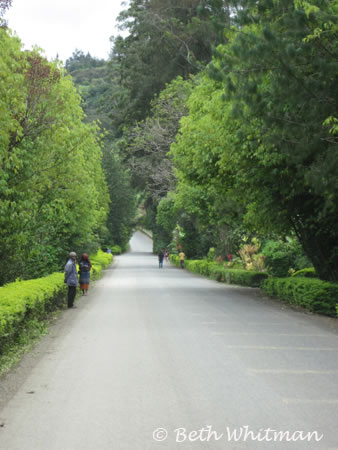 Large trees and greenery hang over the roadways throughout the Highlands. I had heard that the mountain region was beautiful, but you can't imagine it until you've seen it for yourself.
The Sepik River region in the north is a different kind of beauty. This vast river area is filled with tributaries that are constantly shifting, forcing villages to move regularly when waters flood the area. In places, we had a hard time navigating through the vegetation.
Meet Wilson II. This is the statue that came home with me from the Sepik, where they are famous for their carvings.
Why Wilson? Tiffany also purchased a carving (Wilson I) and we both held on to our precious cargo like Tom Hanks did with his soccer ball in Cast Away.
Travel Well!
Beth
Related links:
Papua New Guinea Photos – Part II
Papua New Guinea Photos – Part I
Coming Home – the Bittersweet Truth
Return to Papua New Guinea
Papua New Guinea Tours
2 comments