Horny Toad Improv Jacket: WanderGear Wednesday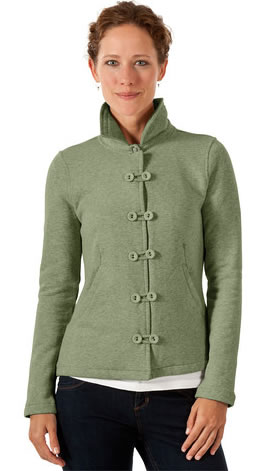 While you might consider the Improv Jacket from Horny Toad to be a sweatshirt, it's far more upscale than that.
Made from 100% organic cotton, it's definitely warm and comfortable. But the style is such that it classes up any outfit.
Personally I was drawn to the Improv because of the double button loop closure down the front, giving it an Asian flavor and making it far nicer than any sweatshirt I own. It's something I can wear as a light jacket at a dinner party, but because it's a relaxed fabric, I can wear it on a chilly night around an outdoor firepit.
It's got lined exterior pockets and one small interior pocket (just the right size for a lip balm and cell phone). The collar flips up around the neck for a little added protection and warmth.
It's currently available in cypress (pictured) and gray heather.
I found the size (medium) to be a pretty true fit for me even after a wash a dry.
Available on the Horny Toad site for less than $100!
Travel Well,
Beth
Related links:
Travel Clothes Recommendations
Horny Toad and Nau Clothes
1 comment