Hostels – Not a Last Option
I'm headed off to Salt Lake City next week for the Outdoor Retailer Show (more commonly called "OR"). This is a trade show for outdoor enthusiasts where manufacturers introduce new products coming to market. The Salt Palace Convention Center is loaded with kayaks, clothing, shoes, hiking poles, sunscreen, tents, watches, backpacks, gadgets galore and pretty much anything and everything a person who steps into the world of adventure might dream about. For me, I'm pretty much in heaven as I scope out the latest in gear and clothes for my WanderGear Wednesday posts.
In my usual wait-til-the-last-minute fashion, I began searching for a hotel just a few weeks ago. I didn't want to rent a car so was looking for a place to stay downtown near the convention center. While I've been able to find bargain motels for about $60/night within walking distance to the show, this time, the cheapest hotel I could locate was $560/night. I do bring home a lot of swag, but not enough to justify THAT price!
Putting my budget hat on, I hopped on Couchsurfing.org and sent notes off to a bunch of gals who, according to their profiles, might be near the downtown area. When I didn't hear back from anyone for a couple of days I started to fret that I might have to cancel my trip and appointments for the show.
Then, one morning as I was in bed and just waking up, I remembered a post from WanderMom about hosteling with kids. D'oh! Of course. There MUST be a hostel in SLC!
I jumped out of bed and started researching. Sure enough, there was one located within walking distance of the Salt Palace! Not only did they have availability, they have private rooms! And free Wifi. And breakfast. I get all this (OK, with a shared bath) for under $30/night!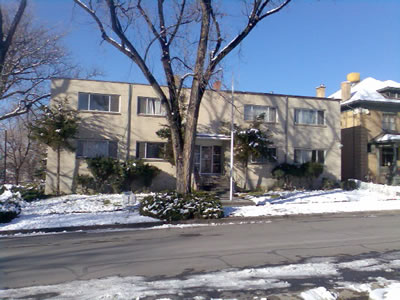 It's funny how I sometimes overlook the most obvious of options. I've been going to OR for a few years and on one of my previous trips I did couchsurf (though on that trip I had a rental car and could stay further out of town). But because I have been able to find affordable hotel rooms in the past I was stuck on the fact that I needed a hotel for this trip and I was blinded by what I would normally consider such obvious options as couchsurfing or staying at a hostel.
The SLC hostel where I'm staying doesn't appear to be affiliated with Hosteling International – which is OK with me. I think that just means it's not sanctioned by the bigger organization but also doesn't have to adhere to some of their guidelines (neither a good nor bad thing).
If the cost of a hotel stay is what's keeping you from taking a trip this summer, consider the many other options available if you're willing to give up just a little bit of comfort. Youth hostels, couchsurfing, staying with friends, home swaps – give it a try! You'll likely meet great people you'd never come in contact with by staying in a hotel. You don't even have to spend big bucks on food – simple hole-in-the-wall restaurants will probably give you a better sense about the place you're visiting.
The fact is that I'll be spending very little time at the hostel when I'm SLC. I've got back to back meetings over 2 days and dinner functions (well, OR parties, really) in the evening. It's good to know that I'm not having to pay $560/night for so little time spent in the room! A bed, a lock on the door and Wifi, and I'm pretty happy!
Are you a hosteler? Couchsurfer? Weigh in with your experiences…
Travel Well!
Beth
Related links:
Random Thoughts on Homecoming
Stumbling Over Pebbles
RTW and Long Term Travel
A Monk Walks onto a Plane
5 comments