WanderGear Wednesday: Lole Convertible Dress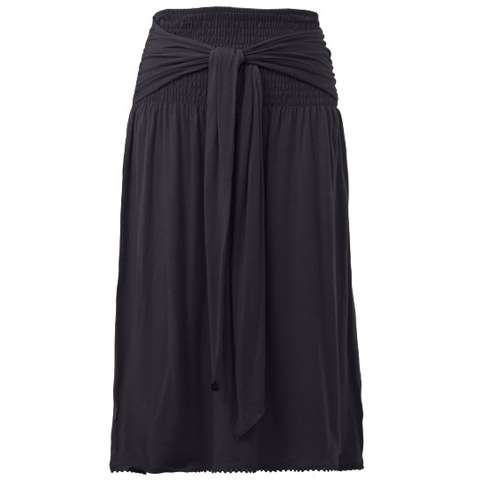 I've been wearing convertible pants/shorts for ages (you know the easy zip off kind, perfect for hiking) but it didn't occur to me that I might wear a skirt as a dress.
When I was at Outdoor Retailer last year (an event that I'll be attending in just a few weeks – I'm SO excited), the folks at Lole Clothing provided me with a sample of this spring '09 item. It's both a skirt and a dress.
Made of tencel and spandex, it has enough stretch in it that you can get away with wearing it on your top or bottom. As a skirt, the two long pieces of fabric can be used as a belt. But when worn as a strapless dress, the "belt", as you see it here, can be worn multiple ways to help hold up the dress or wrap around your body like a scarf.
For travelers heading off to a destination where you might want something a bit dressier but don't have a lot of room, this is a great way to double up on your options.
The Daisy dress/skirt retails for about $40 and currently comes in two colors, light moss and redwood.
Travel Well,
Beth
Related links:
WanderGear: Flip Video Camera
WanderGear: Wanderlusted Bookwrap
WanderGear: Tops from Moving Comfort
WanderGear: Summer Accessories
WanderGear: Outdoor Research Hoody
WanderGear: Ameribag
WanderGear: Timbuk2′s Hidden Backpack
WanderGear: PJ's from Cocoon
WanderGear: Zune Mp3 Player
Join other Wanderlusters and stay updated on travel-related items by subscribing via email or RSS feed.
2 comments