WanderGear Wednesday: Healthy Travel Socks
You might recall when David Bloom died in Iraq. David was a reporter for NBC in the early days of the war. He was 39 when he died from deep vein thrombosis (DVT), presumably from spending long periods of time sitting cramped in a military vehicle.
DVT is caused when a blood clot forms in a vein of the lower leg. The clot then travels upwards, potentially to the heart or lungs, resulting in sudden death.
While it's unlikely that you'll find yourself in a tank for hours at a time, you might feel just as cramped in your airplane seat. I've long been aware of DVT and when on long flights, I always take time to stretch, both in my seat and when I go to the lavatory (usually aft).
Just before the holidays, two companies sent me socks that are meant to help prevent DVT. The socks are designed to put pressure on the lower part the leg, gradually decreasing in pressure up the leg to just underneath the knee. Ultimately, this corrects any potential for a clot.
On my recent jaunt to Chicago, I tested the socks from these two companies, Ames Walker and Injinji.  I tried one pair on the way there, the other on the way back.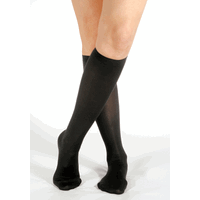 (disclaimer: not my feet)
Ames Walker Microfiber Firm Support Travel Socks – I liked the Ames Walker socks because they looked just like any other knee high socks/stockings I might wear with a pair of slacks. They were very comfortable and, despite the pressure at the ankle, once I put them on, I never noticed them again. The material is stronger than a pair of stockings so I would expect these to last far longer than a pair of knee highs. They packed up really small and I was able to simply stuff them in my extra shoes in my luggage when not wearing them on the flight home.
Injinji Travel Toesocks – The Injinji were A LOT of fun for me to wear because, well, they
kinda brought me back a couple of decades when I used to wear toesocks (though when I used to wear them they were in rainbow colors, of course). These socks are on the thick side and more suitable for winter wear than summer. These, too, were so comfortable that I didn't notice the pressure after having them on for more than a few moments. I felt a tiny bit self-conscious when I had to take my shoes off at airport security, but no one seemed to notice. In India, it's very common for women to wear toesocks when it's cold out. This is becacuse they nearly always wear sandles or flip-flops with a thong that goes between your big and second toe. The Injinji would be perfect for travelers in flip-flops, in cooler weather. It sounds weird unless you've actually seen it yourself but I'm really excited to try it out myself on my next trip to India.
I can only assume that both pairs did their job since I'm still here
. I'd actually recommend both of them – it would just depend on the situation as to which one is best for you. Remember that these can't take the place of actually getting a little exercise and stretching in the plane when you travel!
Travel Well,
Beth
Related links:
WanderGear: Travel Clothes Roundup
WanderGear: Travel Books Roundup
WanderGear: Gift Gadget Roundup
Photo socks: kalandrakas

Read my travel blog on at the Seattle Post Intelligencer.
Join other Wanderlusters and help make this the most popular women's travel blog by subscribing via email or RSS feed.
1 comment