Bhutan Rolls Back Daily Tariff Increase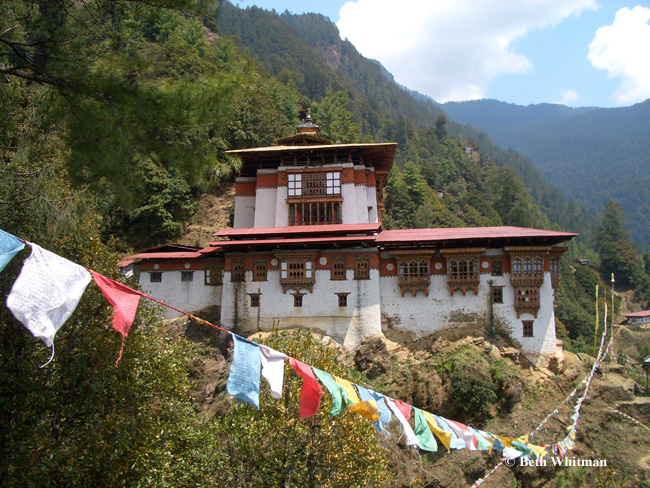 Tiger's Nest Monastery
A few months ago, the Bhutanese government made an unpopular decision to increase the daily tariff for tourists from $200 to $250 U.S. While this covers nearly all of a traveler's expenses when in-country, even $200 a day is pretty steep for Asia.
So why is Bhutan so expensive? There are two reasons for this.
First, until recently, this little Kingdom, nestled between Northeast India and Tibet, was closed to tourists. It wasn't until 1999 that the Bhutanese were able to (legally) watch television. Steeped in a rich history of Buddhism and a life of agriculture, the government has tried to maintain the cultural authenticity of the Bhutanese by restricting the number (and really, the type) of tourists who can visit. Tsechus (festivals) are regularly held throughout the country where men, women and children dress in elaborate costumes, dance and sing. Prayer flags adorn every home and hillside – carrying good wishes across valleys. Prayer wheels, large and small, are spun by every Bhutanese person.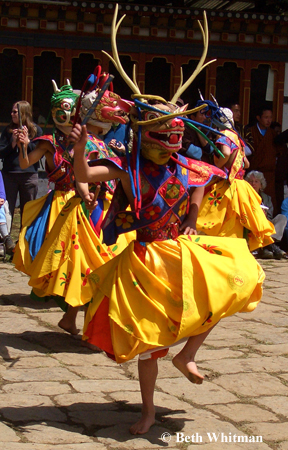 Tsechu Dancer
Secondly, the country, with just one main road traversing east to west, is not equipped for hordes of tourists. There's a lack of hotels and restaurants, and internet cafes (which travelers love) are nearly non-existent. When you can find one, the connection is slower than dial up.  Seriously, it's painful. While more hotels are being built and the one main "highway" has had some recent upgrades (and more accidents because people can now drive faster), the country still can't handle a large influx of foreigners. Oh, not to mention the fact that only Druk Air flies into the Paro airport which sits precariously in the middle of a Himalayan valley.
Bhutan is becoming a more popular destination and by increasing the tariff in 2009, I suspect the government had hoped to not only curb a large influx of tourists to this trendy destination but to also generate a bit more money. With the crash in the world economy however, it appears that the tour operators in Bhutan were able to convince the government that if they left the higher tariff in place that far too many travelers would turn elsewhere until things stabilize.
Young girls in village
Good news for MY tours! I have been able to lower the price for both the Photography Tour to Bhutan with Brenda Tharp and the Buddhism-focused tour in November. (The April trip slipped in before the tariff hike so was not effected by this recent news.) If you've been considering a trip to Bhutan, if it's on YOUR bucket list, shall we say, please consider joining one of these amazing tours in 2009!
Travel Well!
Beth
Related links:
Women-only Bhutan tour in April, 2009
Photography tour to Bhutan with Brenda Tharp in the fall, 2009
Buddhism-focused tour to Bhutan in November, 2009
Beth's Bhutan Photo Gallery

Read my travel blog on at the Seattle Post Intelligencer.
Join other Wanderlusters and help make this the most popular women's travel blog by subscribing via email or RSS feed.
2 comments