Traveling to Trongsa – Bhutan
Please see additional photos in my gallery.
View of Trongsa Dzong from hotel
Thus far, our visit to Trongsa was the most visually stunning day of our 12-day Bhutan adventure. We stayed at the Yangkhil Resort Hotel, perched on the side of a mountain surrounded by views of the valley, cloud-enshrined hillsides and the Wangdue Dzong.
Our time was way too short in this area (we arrived at the hotel at about 5pm and left shortly after breakfast) so there wasn't much time to explore or enjoy the scenery. The rain and clouds didn't get us down and, as a Seattleite, I kinda liked the misty feel of the place!
View of terraced fields near Trongsa
View of Trongsa with prayer flags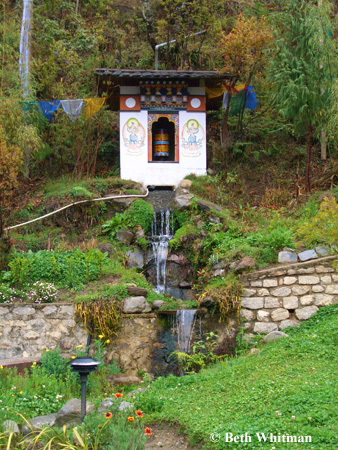 Prayer wheel spinning at hotel
Artwork at Yangkhil Resort in Trongsa
Dinner with the gang in Trongsa
Travel Well!
Read my travel blog on at the Seattle Post Intelligencer.
Join other Wanderlusters and help make this the most popular women's travel blog by subscribing via email or RSS feed.
You can also add this article to popular social networking sites by clicking on the buttons below.
Add a comment