Food & Travel: Park City and Salt Lake City
Stacked salad at Shabu
I would be remiss if I didn't mention a couple of amazing, yet completely different, meals I had during my recent travels to Utah. Utah? Great food? Hmmmm…. how did THAT happen?
The first memorable meal was in Park City. I was visiting the area as a guest of the Chamber of Commerce and my host for the day was Katie Eldridge. Katie is a public relations specialist who runs her own company, Panic Button Media, and is an all around awesome guide and person. Not only does she know the ins and outs of what her Park City clients are doing but she's got the inside scoop on all the happenings in town.
So, being the in-the-know gal, she took me out to Shabu, which serves up "freestyle Asian cuisine". Voted the best restaurant in Park City in 2006 in Salt Lake City Magazine, this Main Street restaurant sits up on the second floor of a fabulous historic building. We were fortunate to have had blue skies (though rain did briefly sprinkle down from the clear sky) so we sat outside for an amazingly relaxed and lovely dinner.
We were joined by Kari Bodnarchuk, a fellow travel-writer, recent NW-transplant and mutual friend of both Katie and I (which we didn't discover until that day) and Carol who works with the trails association. Between the four of us, we managed to make our way through much of the menu, including several starters. Actually, I was so full by the time we enjoyed numerous appetizers that I couldn't bring myself to order the entree I had been eyeing all night, the coconut crusted tofu. Never one to turn down sweets, I did manage to eat dessert, tempura fried chocolate ice cream.
Tempura fried ice cream
Oh heavenly. How was I ever to find a better meal than that in Salt Lake City, where I'd be for the next few days?
I was in the area for the Outdoor Retailer Show and had expected to be stuck inside the Salt Palace Convention Center the entire time. On my last night there, however, I discovered a restaurant called One World Cafe. This restaurant is a volunteer-run cafe that specializes in organic and vegetarian fare (though they do offer some meaty items). The most fascinating part of this is that that you pay what you want. This allows those who can't afford a meal to pay nothing or a little and those of us who can afford it, to pay a fair price (or more).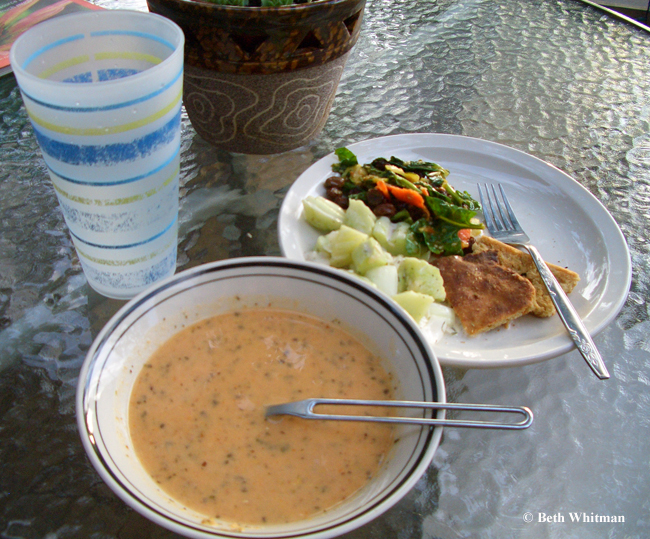 Cucumber and melon soup, ciabatta, grilled veggies and potato salad
Food is served in a semi-buffet fashion. You help yourself to some of the foods and request other items from the cook(s). You're encouraged to only order what you can eat but you can certainly go back for more. The food was magnificent and included lentils, rice, soups, breads, grilled veggies and salads.
Talk about sustainability!
I thoroughly enjoyed both of these completely different meals. The experiences couldn't have been at farther ends of the spectrum but then again, variety is the spice of life!
Travel Well!
Read my travel blog on at the Seattle Post Intelligencer.
Join other Wanderlusters and help make this the most popular women's travel blog by subscribing via email or RSS feed.
You can also add this article to popular social networking sites by clicking on the buttons below.
1 comment